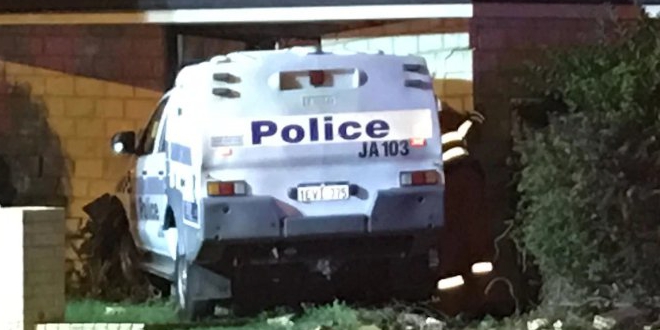 PIC: 7 News
A police car has crashed into a house in Armadale.
Officers were responding to a burglary on Fifth Avenue about 7.20pm on Tuesday when the marked four-wheel-drive left the road at the intersection of Forrest Road and Dale Road.
It is believed the police car was overtaking a vehicle at the time.
According to police, the car hit a low garden wall before smashing into the front of the house, causing extensive damage to the wall and a window.
The driver was taken to Armadale Hospital with a back injury while the other officer was uninjured.
An occupant of the home, a man in his 30s, was also conveyed to hospital with minor injuries.
Police are now investigating what caused the crash.