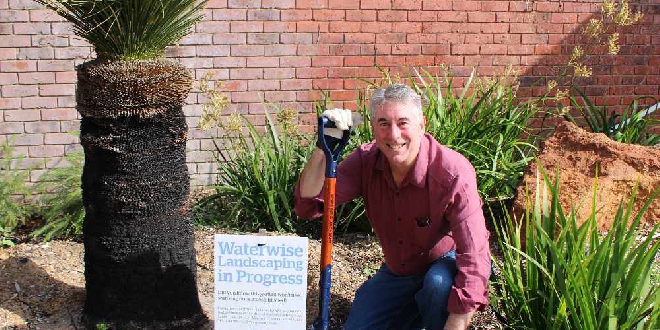 Waterwise landscaping along Murray Street, Pinjarra receives Shire President Cr. David Bolt's tick of approval. PIC: Supplied.
Rebates are available for Murray residents keen on transforming their verges into sustainable, waterwise gardens using native Australian flora. 
The rebate applies to soft landscaping (plants and mulch) and matches the applicant's contribution up to $500.
Shire President Cr. David Bolt said the program encourages water use minimisation and assists homeowners to increase street appeal.
"Well designed, maintained and established waterwise verges require little to no irrigation and minimal fertiliser and upkeep," Cr. Bolt said.
"The program aims to increase local biodiversity and enhance streetscapes and neighbourhood and community character improving walking environments, reducing heat levels and positively affecting health and wellbeing."
Rebates are subject to an application process which must be commenced prior to undertaking work.
Interested homeowners are encouraged to apply as soon as possible, to enable the establishment of plants during the cooler, wetter months.
The initiative is proudly co-funded by Water Corporation's Waterwise Greening Scheme, forming part of their ambition for Murray to be a leading waterwise community.
For more information about the program and to apply for a rebate, visit murray.wa.gov.au/waterwise-verge-program or contact the Shire's Environmental Services team on 08 9531 7777.