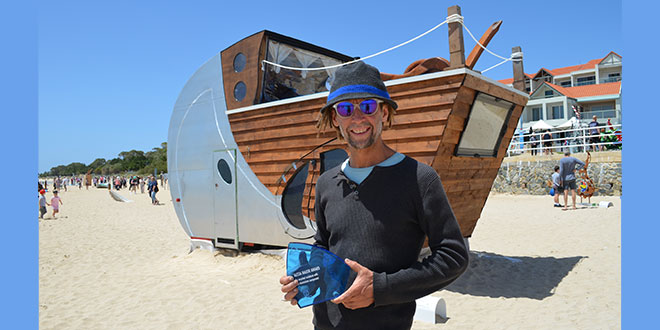 PIC: Supplied
Munster artist Brett Todman has won the top prize at the 2017 Castaways Sculpture Awards for rebuilding a recycled 1980s caravan based on the curved shape of a ginkgo leaf.
The City of Rockingham announced the winners of Tenth Anniversary Castaways Sculpture Awards on Saturday evening at the Castaways Awards Marquee on Churchill Park.
Munster artist Brett Todman won the $5000 Alcoa Major Sculpture Award for recycled sculpture with an aluminium component with his artwork Ginkgo.
Todman recycled a 1980s caravan purchased via Gumtree in May this year, and rebuilt the majority of the structure, basing the curved shape on a ginkgo leaf.
The result is an amazing live-in, two-storey sculpture, replete with full sized bath and mezzanine bedroom with an outdoor deck.
Todman says he didn't think he heard correctly when he was named as winner.
"I only remember going up to receive the award, and even then I didn't know I'd won first prize, I thought it was one of the other prizes."
Although on wheels, Ginkgo was tricky to install on soft sand at Rockingham beach.
Todman joked he'll likely use the $5000 to buy a good winch to get it out of the sand, but is grateful the win will now allow him to visit relatives in NSW for Christmas. "
"It's been awesome to win," he says, "and triggered ideas about other shapes I can live in - a shell-like structure could be next."
Visitors will be able to meet the artist next Sunday 5 November between 12pm and 2pm when Todman opens his caravan-esque sculpture to the public.
Winners of the $3000 Fremantle Ports Award for recycled sculpture was Subiaco artists Adam Ismail and William Leggett with Core, created from aluminium and mixed materials, its form based on a typical core sample, intended to recollect and reflect a cross section in time.
Winner of the $3000 Sims Metal Management Award for recycled sculpture was Golden Bay artist Stella Onderwater with No Spring Chicken, a trampoline picked up from a roadside verge and beautifully embroidered as a tribute to both her mother and daughter.
Winner of the $3000 Engie Innovation Award was Nedlands artist Joan Johnson with Fragile Ocean l, with the word 'FRAGILE' cut from aluminium sheet and displayed fittingly against the ocean as a backdrop.
Winner of the City of Rockingham Award for recycled sculpture was Northam artist Rachel Solomon with Chimera, a small scale work using discarded plastic doll parts. Chimera is a thought-provoking work blending toy lamb and human-like doll parts to highlight human-sheep chimeras created from fusing 15% human DNA with sheep DNA to grow organs for transplanting into humans in the future.
The winner of the Primary Schools Competition was Golden Bay Primary School with School of Fish, created by student from kindergarten to Year 6 and linked to sustainability lessons in the classroom.
The winner of the Secondary Schools Competition was South Coast Baptist College with Nature's Mother(Board) of Recyclers – The Dung Beetle, created from gym equipment, sand filter and a lawn mower catcher.
Castaways Sculpture Awards continues at Rockingham Foreshore until 2pm Sunday 5 November.