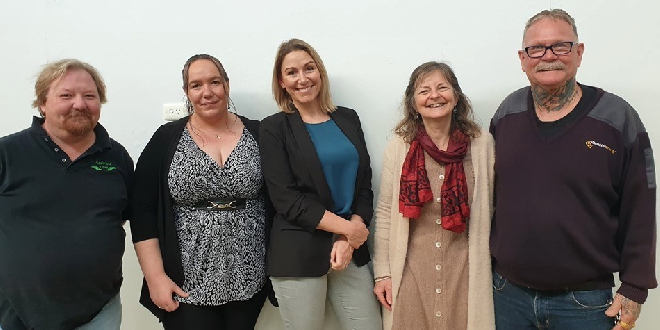 The formation group (from left): Trys Reddick, Toni Manson, Hayley Edwards, Davina Reid and Owen Farmer. PIC: Supplied.
A group will be launched in Rockingham on Thursday aimed at reducing suicide rates and improving mental well-being in the community.
The Rockingham Alliance Against Depression (RAAD) is a local implementation of an evidence-based European framework - the initial implementation in Nuremberg saw a 24 per cent reduction in suicidal acts over a two-year-period.
Since the opening of the first Western Australian Alliance Against Depression in Kwinana in 2017, more have begun to emerge across the state in Waroona and Belmont.
RAAD spokesperson and mental health trainer Trys Reddick, who also co-founded the Kwinana alliance, said they hope the community will be a part of the solution.
"We have been overwhelmed by the response we've had to this launch so far and look forward to seeing so many people come together for the launch," he said.
Member for Baldivis Reece Whitby will open the launch at Hotel Clipper on Thursday from 1pm, with the inclusion of keynote speakers as young as 17, who will be sharing their journeys as well as speakers from Lifeline, Constable Care and Youth on Fire.
Local Rockingham resident Owen Farmer, founder of the Western Australian Homeless Advocate, will also be speaking.
The launch will also allow for participants to discuss gaps in services available and where things can be improved within the community - the feedback will then be passed on to the State Government's policy advisers in a bid to improve what's on offer.
For more information email rockinghamaad@gmail.com or call 0467 771 416.