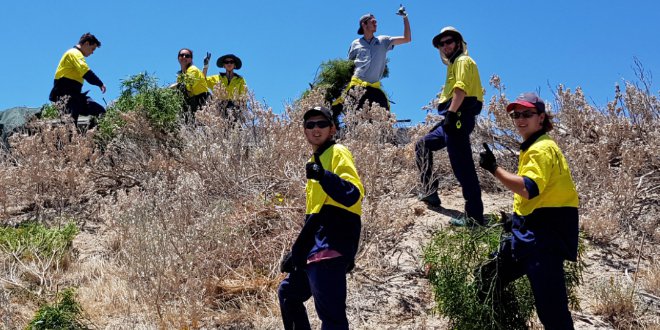 PIC: Supplied
Two teams have been working since 2017 to help rejuvenate Rockingham's coast and natural areas.
Last year the City of Rockingham became project host for two 'Green Army' teams as part of a federally funded training program for participants aged 17 to 24 years of age operating throughout regional, outback, and metro Australia.
The Rockingham teams included 18 participants and two team supervisors who were tasked with projects which would rejuvenate Rockingham's coast and natural areas, helping restore Perth's coastal corridor to increase natural resilience and protect habitat of the threatened Carnaby's black cockatoo.
During the last seven months the teams have completed major works to the local environment, planting over 10,000 native plant species, conducting surveys to obtain information on the population of local nesting black cockatoos and frogs at Tamworth Swamp, removing invasive weeds, and installing control structures and fencing to protect coastal dunes from the effects of erosion.
City of Rockingham Deputy Mayor Deb Hamblin said the community was pleased with the results.
"The City is really pleased to have been a project host for two Green Army teams – it's been a fantastic success," she said.
"They have put in a lot of hard work and their efforts have been greatly appreciated by the City and by the entire community".
Green Army participants are also completing four nationally accredited units in conservation and land management during the training program.
Half of the participants finished their traineeship in January 2018, and other half will conclude at the end of March 2018.
The City of Rockingham said the teams contributions to the community has been invaluable, they have learnt a great deal, built long lasting friendships, and gained the experience of a lifetime.