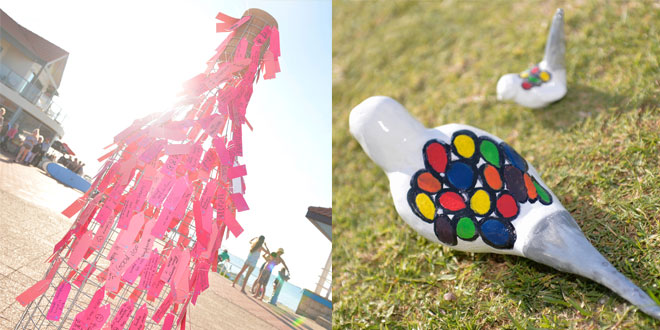 Message On a Bottle and The Flock' by Elizabeth Marpole and Jeannette Vernooij Dik. PIC: Supplied
The City of Rockingham has announced the winners of the 2017 Castaways Poetry Prize which are inspired by the region's most prestigious outdoor sculpture competition and exhibition. 
Victorian poet Janeen Samuel was first prize winner with her poem 'China Birds', based on the 2016 artwork 'The Flock' by Elizabeth Marpole and Jeannette Vernooij Dik.
The winning poem will feature in the 2017 Castaways Sculpture Awards 10th Anniversary Catalogue.
The poetry competition attracted more than 100 entries from across Australia as well as overseas, giving this unique sculptural exhibition an international flavour and profile.
All poems were based on images of artworks from the 2016 Castaways Sculpture Awards available from the Castaways Web gallery on the City of Rockingham website.
City of Rockingham Mayor Barry Sammels said the competition expanded the scope of the Castaways art exhibition.
"Many of the images are very striking.
"With a backdrop of sea and sky the sculptures create an interesting addition to the landscape, resulting in an inspiring gallery of images for the poets to draw from.
"I would like to congratulate all of the entrants in the 2017 Castaways Poetry Competition, and I hope you will all submit an entry again next year."
This year is the 10th anniversary of the Castaways Sculpture Awards and exhibition.
The event is marked by a community celebration day from 10am to 4pm this Saturday at Churchill Park, Rockingham foreshore.
Visitors can take part in a range of arts activities as well as enjoying music by local bands and the finalists of this year's Breakthrough Music Competition.
For more details, visit the City's Castaways page or pick up a catalogue at the Castaways information tent.
Castaways Sculpture Awards runs from October 28 and November 5.