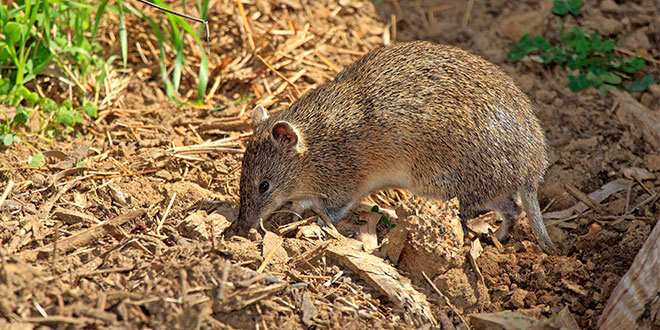 PIC: The City of Rockingham is encouraging community members to keep an eye out for southern brown bandicoots in the City's nature reserves.
The City of Rockingham is conducting a survey to determine the population of southern brown bandicoots in the City's nature reserves.
Local residents are being asked to keep out to keep an eye out for them in the community.
The southern brown bandicoot (Isoodon fusciventer) is a small, native marsupial often mistaken for a large rat. They are usually active at night but may be seen throughout the day in cooler weather.
Earlier this year the City put motion-sensitive cameras into a number of nature reserves that are included in its feral animal control program. These cameras then recorded encounters with bandicoots.
The City has been monitoring bandicoot numbers since 2018 and the overall encounter rate of bandicoots has increased by one third across the City in the past two years. Feedback from the community in the survey will help assess the success of the City's feral animal control programs.
Mayor Barry Sammels said the City was seeking community support in this initiative to contribute to the data collected for the study.
"We are calling on residents to report sightings of bandicoots or foxes and lodge details of the observations via an online submission form," Mayor Sammels said "The data gathered from the bandicoot survey will be used, in part, to understand the level of benefit the feral animal control program is having on native species.
"Feral animals, such as foxes, are predators of native animals including bandicoots. Understanding the effects that the control program has on native animals will help guide future control programs and improve effectiveness."
The survey will run until Wednesday 17 June 2020. Further information and a link to the survey is available on the City's website at rockingham.wa.gov.au/bandicoots