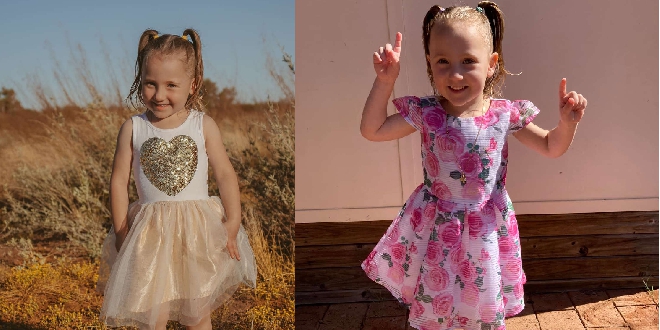 The search for Cleo Smith (4) has entered its third day. PIC:Facebook
The search for a missing four-year-old girl in WA's north west has entered its third day.
Cleo Smith was camping with her family at the Blowholes campsite, around 70km north of Carnarvon, when she vanished from her tent on Saturday morning.
Her parents saw her in their tent at 1.30am and when they woke at 6am she had disappeared along with her sleeping bag.
Insp. Jon Munday said police hold "grave concerns" for Cleo and are not ruling out a possible abduction.
"We've gathered a lot of information and a lot of intelligence from things like dash cams, CCTV cameras around the place, CCTV at roadhouses," he said.
"We are trying to paint a picture of who was around here during the window of opportunity between the early hours of Saturday morning and 6am ... as to who was around and what leads they can give us.
"Everything is on the table, we are looking at everything, and hopefully ruling them out as we progress through the investigation," he said.
Police say the family are Carnarvon locals and know the area well.
An extensive search has been underway since Saturday morning involving SES volunteers, aircraft, drones, marine search and rescue and police.
Cleo was last seen wearing a pink-purple one-piece sleepsuit with a blue and yellow pattern.
Anyone with information should contact police immediately on 131 444.