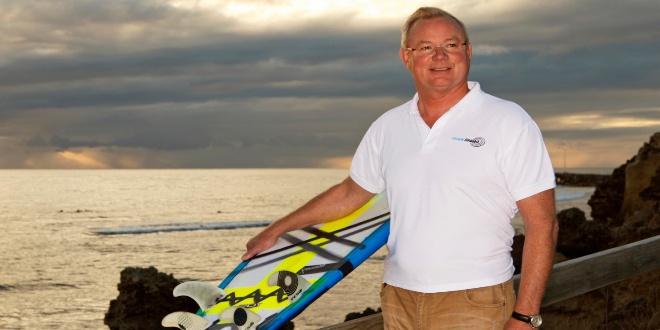 PIC: Shark Shield
Western Australian Innovators have been nominated for an Edison Award for their contribution to injury prevention.
Shark Shield's FREEDOM+ Surf, the world's only scientifically proven electrical shark deterrent technology, has been named a finalist in the Athletics, Sports & Recreation – Injury Prevention category in the 2018 Edison Awards.
The internationally recognised awards recognise and honour the world's best in innovators and innovations.
The Perth-based team will travel to New York City with winners being announced at the 31st Annual Edison Awards scheduled for April 11.
Shark Shield CEO Lindsay Lyon said their nominated product was just the start of things to come from the brand.
"As we speak our product development team are working on a range of new products with the potential to protect an entire beach front through to a boating product and even hand-held devices for recreational ocean users," he said.
The product works by emitting a small electrical current into the water, which interferes with special sensing organs sharks have in their snout called.
The sensing organs detect small electrical currents given off by their prey, but when overstimulated the organs spasm and force the shark to turn away.
The product was designed in partnership with two-time World Surfing Champion Tom Carroll and the iconic surf hardware brand Ocean and Earth.
All nominations were reviewed by the Edison Awards Steering Committee and the final ballot sent to an independent judging panel.
The judging panel was comprised of more than 3,000 professionals from the fields of product development, design, engineering, science, marketing and education, including professional organisations representing a wide variety of industries and disciplines.
Shark Shield safety products provide peace of mind for surfers, divers and ocean lovers around the world supporting shark conservation by enabling humans and sharks to share our oceans; the ultimate ocean guardian.