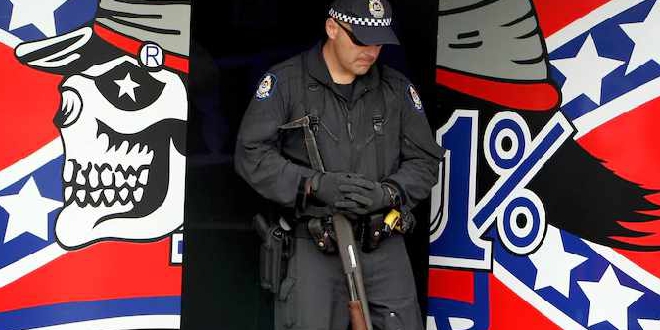 PIC: The West Australian
Police are on alert for a possible outbreak of bikie violence after at least seven Rebels from the gang's Rockingham chapter are believed to have jumped ship to arch rivals the Comancheros.
The move is considered to be a serious breach of the bikie "code" that insiders believe will not go unpunished.
The reason for the defection is unclear
The West Australian reports, adding to the insult likely to be felt by the Rebels is the fact that the gang's Eastern States chapters have been at war with the Comancheros for more than two years.
WA Police say they are "monitoring" the activities of all gangs for any signs that violence could be about to erupt here, history shows it could happen without warning if rival members accidentally crossed each other's paths.
In 2010, the feud between the Coffin Cheaters and Finks over turncoat Troy Mercanti erupted into a bloody shootout at the Kwinana Motorplex after members unexpectedly turned up to the same event.