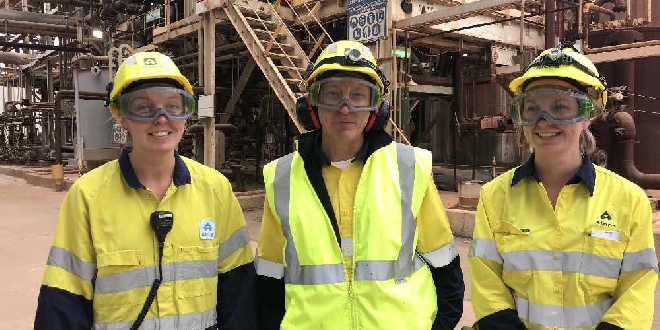 Alcoa Pinjarra Refinery employees, Jennifer, Chris, and Kristie Hind. PIC: Supplied.
When Chris Hind started his job at Alcoa's Pinjarra Alumina Refinery 12 years ago, he didn't imagine the workplace would one day be shared with his two daughters.
Mr Hind is a production group leader who accepted the job as a long-term career to provide a good life for his family.
"I knew if I worked hard we would have a good quality of life, but I didn't realise the flow on benefits that the job and Alcoa would provide my children," Mr Hind said.
Both of his daughters completed their Certificate II in Process Plant Operations at TAFE, after constant encouragement from their dad to consider careers in the mining and resource sector.
Daughter Kristie has now worked at the refinery for ten months and said she's been on a steep learning curve.
"I was a teacher's aide before I came to Alcoa," Kristie said.
"It was a very challenging job, but in different ways to that of a Process Operator which is both mentally and physically demanding."
Chris' other daughter Jen previously worked as a clerk, but has now been a process operator at the refinery for two years.
She said TAFE was the best way to get the role she's in.
"There's only so much you can take from a job description," Jen said.
"Learning about the different facets of the job is really eye-opening. It's more complicated than people think."
Chris is very proud of his daughters.
"It's wonderful to see them thriving in this environment; it's industrial, it's male-dominated and they're helping change the mindset associated with women working in the industry," he said.
"Alcoa is a good strong company with a great reputation and job security.
"It's nice as a parent to know your kids will have successful careers."