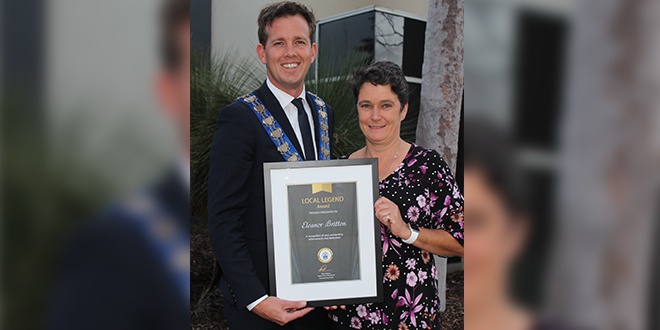 PIC: City of Mandurah
Youth health and wellness campaigner Eleanor Britton is Mandurah's latest Local Legend.
Eleanor is the Business Development Manager of GP Down South, a non-profit community organisation that operates a number of health and wellbeing centres and services in the Peel Region.
Described as the "driving force" behind encouraging local services and programs to address youth suicide rates in the Peel Region, Eleanor was instrumental in helping to secure the funding, building and opening of the Peel Health Hub.
Eleanor also lobbied state and local governments to have the 3 Tier Youth Mental Health Program funded for three years.
She was also a key player in petitioning the Federal Government to have Mandurah become one of the 10 locations for Headspace, which opened last year meaning young people have access to mental health and wellbeing support.
Eleanor has long recognised the need to provide these necessary services for young people in the area, helping to address youth suicide and mental health issues.
With a "never give up" attitude, Eleanor identified the need for a centre where a holistic approach to health and wellbeing could be delivered to young people and disadvantaged people in the community.
Mayor Rhys Williams said Eleanor was an extremely deserving recipient of the Local Legend award, having spent countless hours dedicated towards lobbying to make the Peel Health Hub a reality.
"Eleanor gave real heart and soul to the plight of having our Peel Health Hub built in Mandurah, as well as many other programs and services she has worked so hard to secure for the young people and vulnerable people in our community," Mayor Williams said.
"Her perseverance has well and truly paid off, with young people now having access to vital support services at the Hub, which is absolutely paramount to our community.
"Eleanor lobbied business, politicians and community to garner support for the project, and her passion definitely shines through.
"Congratulations to Eleanor on becoming our new Local Legend."
If you know of someone you think deserves to be a Local Legend please contact the City of Mandurah.