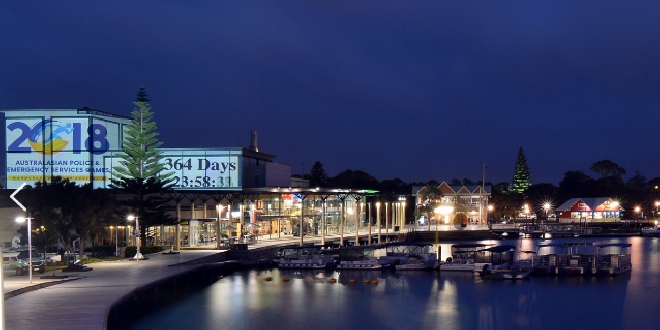 APES Games countdown clock projected onto Mandurah Performing Arts Centre across Mandjar Bay. PIC: Supplied
The countdown has officially commenced for the 17th Australasian Police & Emergency Services Games to be held in Mandurah in 2018.
The Games torch was lit at a special launch event on Saturday night to mark one year from the start of the Games to be held from October 28 to November 3, 2018.
The Games are held every two years as a multi-sport event open to serving and retired personnel from all police and emergency service agencies throughout Australasia.
Chairman of the Western Australia Police Sports Federation, WA Police Force Deputy Commissioner Stephen Brown welcomed all emergency service agencies to take part.
"These are Extraordinary Games for Extraordinary People, and we are expecting 3,000 competitors across 115 eligible agencies from ten countries," Commissioner Brown said.
"From a participant's point of view, the Games provide a great opportunity for inter-agency collaboration, competition and comradery."
Mayor of Mandurah Rhys Williams joined WA Police Force Commissioner Chris Dawson, Department of Fire & Emergency Services Commissioner Darren Klemm and St John Ambulance CEO Tony Ahern as the Games torch was sent sailing into the sunset.
"The City of Mandurah is very proud to be the host city of the Games in 2018," Mayor Williams said.
"We are really excited that this event provides a great opportunity to showcase the best of the Peel region to thousands of athletes and spectators from across Australasia, but it will also be another community event the people of Mandurah can be proud of."
Early-bird registration is now open for all eligible competitors across more than 50 sports on the Games website, at http://www.apandesgames.com.au/.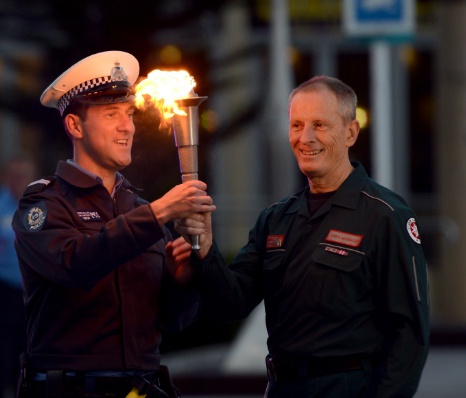 St John Ambulance paramedic Bruce Fraser passes the Games torch to Senior Constable Chris Miller from Mandurah Police. PIC: Supplied