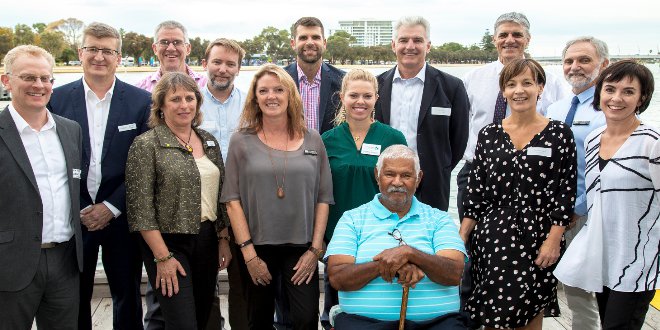 PIC: Roz D'Raine
A new Alcoa funded project will see groups come together to improve the health of key Peel waterways.
The $2 million 'Three Rivers, One Estuary' vision was launched on Friday with multi-agency and community approaches set to help bolster the health of Peel's waterways.
The projects, headed by The Nature Conservancy, Peel-Harvey Catchment Council, and Greening Australia, aim to improve the health of the Serpentine, Murray and Harvey rivers along with the Peel Harvey Estuary, which is internationally recognised as a wetland of significance under the Ramsar Convention.
Stakeholders across government, community and the environmental sector came together in Mandurah for the launch, made possible through funding from the Alcoa Foundation.

Alcoa of Australia Chairperson and Managing Director Michael Parker used the launch to call on the community to get behind the vision and the three projects spearheading it.
"Collaborations like Three Rivers, One Estuary allow for a big vision and great success as we tap into the strengths of individual initiatives and create synergy for an even greater purpose," he said.
"Our hope is that other environmental and land management groups, governments at all levels, and the broader community will get behind their work. There will be plenty of opportunities for us all to roll up our sleeves and help make an even bigger difference together."
The Nature Conservancy Australia Marine Manager Dr Chris Gillies said they would hold a series of public presentations and workshops to coincide with these projects, seeking the community's input into what in-water projects will return the highest conservation benefit in the area.

"Our local and international experts will work with the community to discuss the latest restoration methods for improving fisheries, reducing nutrient runoff and protecting shorelines against sea level rise and flooding," Dr Gillies said.

"This will help us determine the best projects we can implement in the area to deliver the maximum conservation outcome."
Peel-Harvey Catchment Council Chairman Andy Gulliver and Greening Australia chief executive officer Brendan Foran echoed the same message, urging community members to get involved.