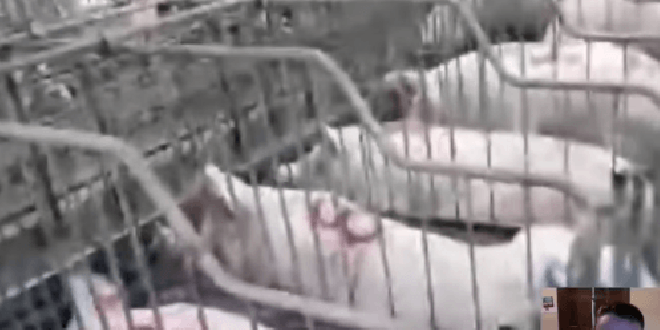 PIC: Nine News
Two vegan activists have been charged after allegedly gaining entry into a piggery near Pinjarra.
A 25-year-old man was arrested at a Perth home on Tuesday after a video was live streamed to Facebook on Sunday night, showing the accused and a woman inside the farm in Blythewood.
On Wednesday morning it was revealed a 24-year-old woman had also been charged with trespass after the incident.
The pair moved around undetected for at least an hour, videoing sows and their piglets in crates, claiming they were being kept in cruel conditions.
The man has been charged with two counts of trespass in relation to the Blythewood incident and another incident at a farm in Mundijong on February 6, and one count of possessing a controlled weapon.
The woman has been charged with one count of trespass in relation to the Blythewood incident.
The pair will appear at Mandurah Magistrates Court on March 22.
Police Regional Commander Allan Adams said they will be coming down on any activists who break the law.
"There is a line in the sand when people engage in protest activity," Mr Adams said.
"When they don't abide by those rules the police will thoroughly investigate and respond."