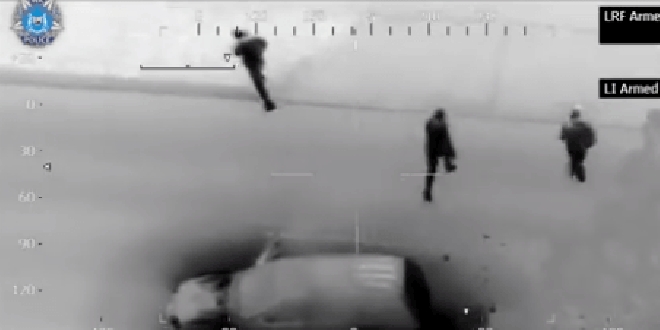 PIC: WA Police/Facebook
A 19-year-old from Port Kennedy is one of three men facing dozens of charges following a police car and foot chase through Perth's south east.
Three men have now been charged over Saturday night's police chase starting in Maddington and lasting about an hour.
Officers tried to stop a vehicle at about 11pm but it allegedly sped away with stingers used to stop the stolen car.
Police said the men also ran from the car and a 27-year-old was bitten by a police dog as he was being arrested behind a tree where he was trying to hide from officers.
The offenders can be seen jumping over gates, scaling walls with one of them running straight into a wire fence.
It all started after police received a report of a burglary in progress at a residence in Virginia Avenue in Maddington.
A 19-year-old man from Port Kennedy is due to appear in the Rockingham Magistrates court today.
He's been charged with the following offences:
Aggravated Home Burglary and Commit (Port Kennedy – 21/10/2017)
Stealing (Port Kennedy – 21/10/2017)
Aggravated Armed Robbery (Port Kennedy – 21/10/2017)
Attempted Gains Benefit by Fraud (Australind – 18/10/2017)
Steal Motor Vehicle and Drives or Assumes Control without Consent (Australind – 18/10/2017)
Steal Motor Vehicle and Drives or Assumes Control without Consent (Lesmurdie – 14/10/2017)
Aggravated Home Burglary and Commit (Lesmurdie – 14/10/2017)
Steal Motor Vehicle and Drives or Assumes Control without Consent (Southern River – 11/10/2017)
Home Burglary and Commit (Southern River – 10/10/2017)
Stealing (Southern River – 10/10/2017)
Stealing (Lesmurdie – 10/10/2017)