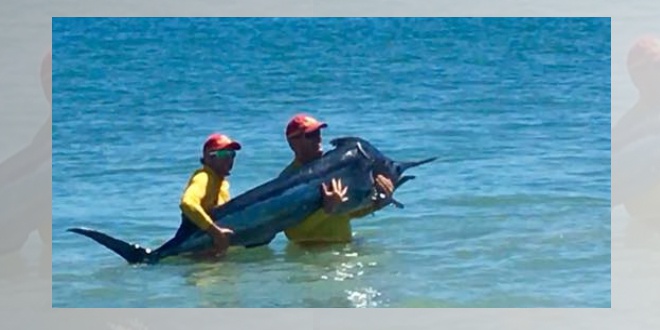 PIC: Facebook / Brock Day
This keen fisherman thought the dolphin that hanging around him on Sunday was just a pest, but later he realised it was something completely different.
Perth fisher Brock Day made the trip to Mandurah on Sunday not for the Crab Fest like many others did, but to wade in the waters of San Remo Beach.
Mr Day said he noticed a fin in the water nearby when he took some bait on hooks out to catch fish, but assumed it was a dolphin and continued on his fishing.
He later discovered the fin belonged to that of a Marlin, not usually seen this close to land.
Life savers quickly helped to get the fish back out to sea.