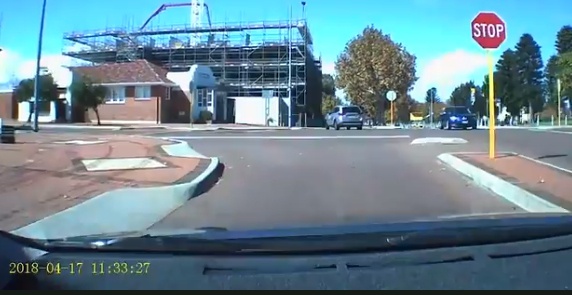 The new four-way stop sign intersection has motorists scratching their heads. PIC: Chris L Lambe/Facebook
Concerns are being raised about a new four-way stop sign intersection in Rockingham.
The newly installed signs at the Flinders Lane and Kent Street intersection have some motorists scratching their heads.
Dashcam footage posted to the Perth's Worst Drivers Facebook page shows cars stopping at the intersection, but hesitating to move.
So here's the question..."who goes first?"
Dean Roberts from Main Roads said the normal road rules apply.
"You give way to the right," said Mr Roberts.
"If someone on your left starts to proceed to enter the intersection, your commonsense kicks in and you give way to that vehicle."
Mr Roberts said the installation of the stop signs is just a temporary measure and the signs on Kent Street will be removed on Friday.
"We do this as a temporary arrangement just to get local road users aware of the fact that there's going to be a change to the traffic environment at that location," he said.
"In this case we're making Kent Street the new 'through' road and Flinders Lane will be the 'controlled' part of that intersection with stop signs."