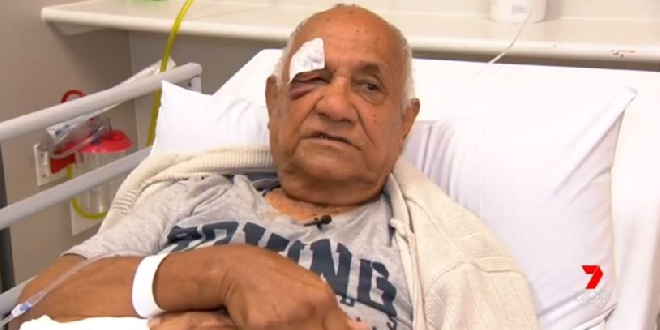 Maurice suffered several injuries after the alleged car-jacking. PIC: 7News
Police have charged a 24-year-old woman over a violent car-jacking in East Victoria Park.
The 80-year-old victim parked his gold Mitsubishi Lancer near rubbish bins on Terminus Lane last Tuesday between 5.30pm and 6.00pm and started to put the bins on the kerb for collection.
The woman then allegedly got into his car and as the man tried to stop her, she accelerated away, causing the elderly man to fall backwards, hitting the ground.
He was taken to Royal Perth Hospital for treatment to a cut across his eyebrow which required stitches, a broken left leg and finger and extensive grazes and blistering to his right leg which will need plastic surgery.
Police released CCTV footage of a woman wanted over the alleged car-jacking.
She was arrested at a home in East Victoria Park last night and charged with aggravated robbery, stealing a motor vehicle, failing to stop and ensure assistance after an incident occasioning bodily harm and stealing.
She is due to appear before the Perth Magistrates Court today.