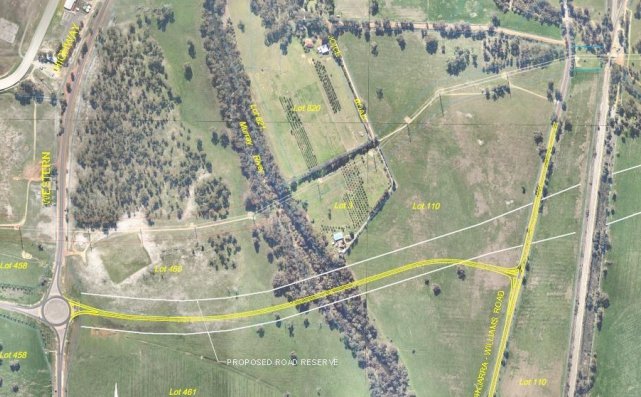 Proposed Pinjarra Eastern Bypass stage 1 PIC: Main Roads WA
The proposed Pinjarra bypass will be put to a vote when Shire of Murray residents head to the polls in October.
The Shire of Murray will use the 2017 Local Government Election as an opportunity to hold a referendum to seek feedback and build a business case towards a future Pinjarra Heavy Haulage Deviation.
The cost is $5000 with another $10,000 allocated in the 2017/18 draft budget to promote the referendum.
The poll is part of the public consultation needed to provide proof to the State Government that there is support from the community for a Pinjarra Heavy Haulage Deviation.
Shire of Murray President Maree Reid said Pinjarra is a major town in a rapidly growing region and a key objective is to provide an alternative route for heavy vehicles to reduce congestion, improve safety and enable business to develop and thrive within an activated town centre.
"The major conflict within the Main Street of Pinjarra are heavy vehicles that negate a safe environment for pedestrians and access to the shopping precinct.
"It's important the community has a big say about the project and residents will have plenty of information before they go into vote."
A Shire of Murray report said ultimately the proposed deviation will link further north toward North Pinjarra and align to the future extension of the Tonkin Highway.