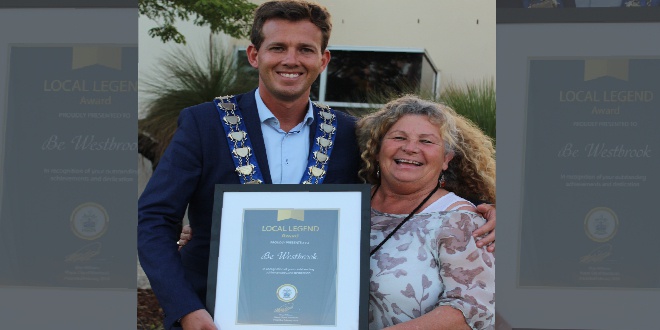 PIC: Supplied
The City of Mandurah has recognised Be Westbrook as the latest in its Local Legend awards.
Mayor Rhys Williams and the City of Mandurah celebrated Mandurah resident Be Westbrook and highlighted her ongoing work with Mandurah's youth by awarding her the latest Local Legend award.
Be was awarded for her dedication to improving lives of young men and women in Mandurah.
For a number of years Be was the Executive Officer at Peel Youth Services, working with the community from a grass roots level.
Thanks to her vision and dedication to young people in the community, she helped create a number of programs to support local youth, including the highly successful Eyes Wide Open program.
Eyes Wide Open assists young pregnant women and young parents in Mandurah and the Peel region to achieve their potential, build a brighter future, learn life skills and continue their education.
Be's dedication and leadership helped see the program grow into its own premises with many of the program's former participants now teaching the programs she initiated.
She also owns a Fly in Fly Out life coaching service and has spearheaded a number of community programs including Choyces and Groundshock.
Mayor Rhys Williams has congratulated Be on her enthusiasm not just to support the young people in the Peel, but to help empower them to manage their own lives.
"Be has been quoted as saying, "I don't want to give them fish, I want to teach them how to fish" – and that's an admirable philosophy to live by," he said.
"By listening to the needs of young people, Be has made a huge impact on the lives of many. She has made a real difference in our community.
"Her selfless work in supporting, nurturing and mentoring young people is to be commended. Without people like her in the community providing support, the challenges our young people face would be harder.
"We're extremely proud to have dedicated people like Be in our community and it is important that we celebrate their achievements in making Mandurah a better place."
The Local Legends award was established to recognise and celebrate outstanding people who have made a positive, active contribution to the Mandurah community.