Commercial radio listeners are online savvy – they have a high propensity to purchase products and services on digital platforms, making radio the perfect choice for advertisers wishing to direct consumers to their website, app or social media page.
Out today, this special report on the category of online shoppers was put together by Commercial Radio Australia and GfK.... essentially people listen to the radio either while online shopping, or because radio advertising directs consumers to their website, app or social media page.
The key insights are:
Over 9.5M or 77% of online shoppers tune into commercial radio across five major metropolitan markets each week

The best time to reach online shoppers on radio is between 7-10am and 3-4pm Monday-Friday

Online shopper listeners spend 12 hours 36 mins on average listening to commercial radio each week
But my take away from the report - which you can read - HERE - is on page 3...
"RADIO REACHES LARGE ONLINE SHOPPER AUDIENCES who don't engage with traditional and social media"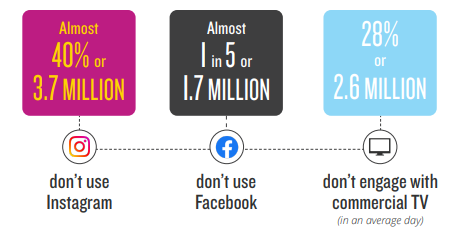 Meaning that if you advertise on your radio commercial that you ONLY have an Instagram, OR, a Facebook page - you are missing a HUGE chunk of potential customers. AND, if your media mix ONLY includes TV and social media - your are missing out on even more consumers.
Something to think about!
Again - see the full report - HERE - and point people to your website AND your socials in your next radio ad campaign.