A HubSpot Blog post written by Geoffrey Colon went up recently, it showed the results of a survey and the information was so important that I thought I should relay it to you here in an End of Month Extra on the Blog For Clients… So I have drilled the details down to what I think might be relevant to our readers and let you read the full post (which you can read the full post HERE) when you are free…
We all know that having a website is essential for every business, and sometimes it's the first contact many of your future customers will have with you. But just because you have one, doesn't mean it is working effectively.
HubSpot uncovered key design features you'll want to include in your website, they asked 285 people which elements they feel are most important for a company website.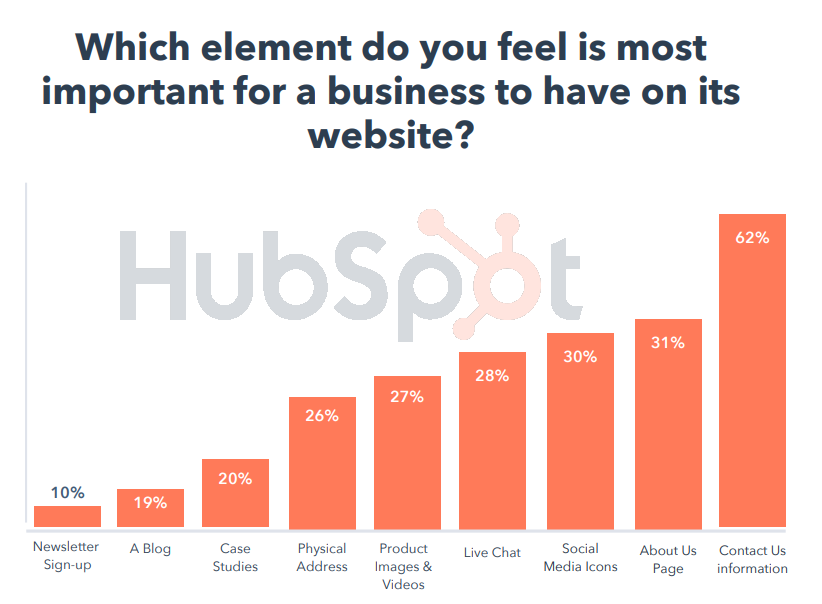 1. 62% of those polled said 'Contact' information is critical.
Including contact information seems obvious, but a lot of companies miss this. Include the phone number, email address, or other contact medium you want people to reach you for sales inquiries, and your physical address — preferably in an easy-to-find location, like the header of the page.
2. 19% say a 'Blog' is most important.
All digital, social, and other online marketing requires quality content. And a blog is one of the most effective opportunities you have to create content and tell stories related to your products or services.
3. An 'About Us' page is a vital.
Sharing your story and highlighting core values is critical for your brand's long-term success. In fact, 85% of consumers say they'll only consider a brand if they trust it. Build that trust and share your journey.
4. Include 'Social Media' icons to drive traffic to your social pages.
We know social media icons are important, this element suprisingly overshadows live chat, customer case studies, and blog as the most important element of a company's website, that's according to 30% of those surveyed.
5. 20% percent say customer 'testimonials' can effectively take your website to the next level.
Potential customers need to trust you before choosing to work with you. Fortunately, customer testimonial pages can help you effectively build that trust.
6. Geographic details are invaluable for local search SEO.
46% of all Google searches are looking for local information — which means if your business isn't optimized for local search, you could be missing out on customers searching for products or services within your geographical region.
7. Live chat is an important element.
28% said live chat is a necessary component of a successful website, and chatbots can't replace real people with customer service, but they are a good alternative for those who don't want to call or email and may be inquiring about services or simple FAQs.
8. 27% wanted original videos and images of your products or services.
Customers like images — they are weary of stock photos, particularly of products or services. This is where authentic behind-the-scenes videos and photos can help.
9. And 10% wanted a newsletter sign-up button.
Offering visitors to your site a chance to stay up-to-date via a subscription to your blog posts, newsletters, or product releases is a great way to stay top-of-mind for prospects and customers and increase brand loyalty.
Finally – do yourself a huge favour and read the entire post HERE, there is a LOT more details there and it is honestly worth the 10 minutes to sit and read it all.
Do remember that search engines are only one way a customer can find your website, there are many others… from QR codes on your van and signage (I have even seen them on business cards recently) to mentioning your website address in every piece of marketing you put out, including your radio commercials. Even on your bills and invoices.
You need to get customers in the door, and the best way is by word of mouth, and directing them to your website or in-store. But how you do it is just as important.