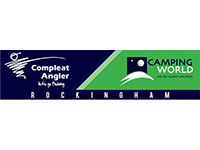 Phone Number: 9528 5255
Address: 81 Dixon Road, Rockingham, 6168
Website: http://www.compleatangler.com.au/
Compleat Angler & Camping World at 81 Dixon Road Rockingham have a huge range of fishing and camping equipment and accessories.

Phil, Ali and the team can also give you expert advice on the best fishing spots or what equipment is required to make your adventure in the great outdoors a pleasure. Gift vouchers are also available.