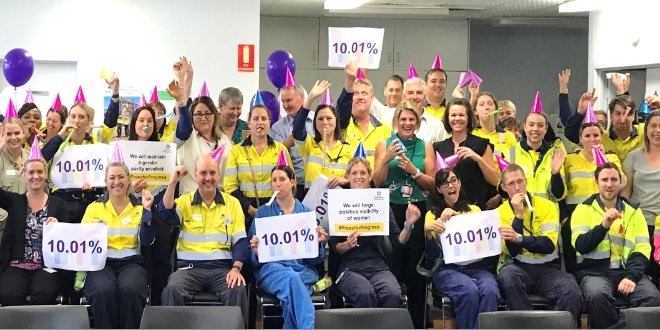 PIC: Supplied
The Pinjarra Alumina Refinery has reached a record milestone of 10 per cent female employees for the first time.
With 2,000 of the 3750 people employed by Alcoa living in the Peel Region it isn't a surprise the company are bolstering the local workforce.
But upping female employment figures at the refinery is also reaching new heights, for the first time more than 10 per cent of employees are women.
It's the first time this figure has reached this height as Alcoa continues to press for progress to accelerate gender parity in its workforce.
Women are employed in a wide range of roles within the refinery, including operators, managers, trades, apprentices, group leaders, supervisors and in administration.
Pinjarra Alumina Refinery Manager Julio Costa said Alcoa is committed to be an inclusive and diverse workplace, and will continue working to improve gender balance.
"When we value workplace diversity and inclusion we see benefits such as higher employee engagement, improved performance, greater innovation, retention of talent, improved employee wellbeing and lower levels of harassment and discrimination," he said.
The Pinjarra refinery's Diversity and Inclusion Plan focuses on initiatives such as a maternity/parental program to enhance connection, increasing job share and flexible work opportunities, ensuring mentors and support systems are in place for new female employees as well as reviewing workplace ergonomic challenges for the benefit of all employees.
The Alcoa Women's Network is an active and important element in the company's diversity movement, Mr Costa said, as members inspired success, raised awareness of gender parity and facilitated connections to develop and advance women.
Alcoa was recently named an Employer of Choice for Gender Equality for the 16th consecutive year by the Federal Government's Workplace Gender Equality Agency, and has a commitment to achieving a greater female participation in its workforce.