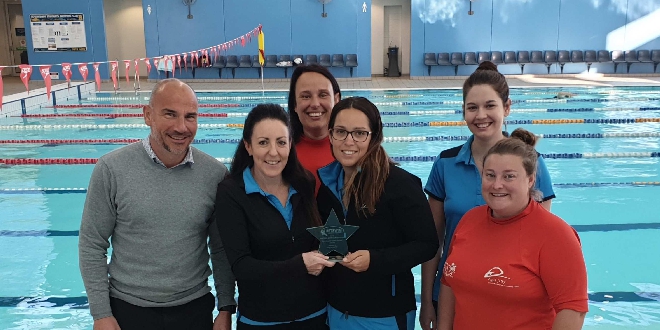 City of Rockingham staff Richard Hardy, Naomi Dunn, Natasha Clear Emily Wayre, Jayne Alexander and Sophie Coutts proudly showcase the Aqua Jetty Swim School's award. PIC: City of Rockingham
Aqua Jetty's swim school has been recognised as the best in the State after taking home the AUSTSWIM Recognised Swim Centre Award.
The award was presented during the AUSTSWIM Soak It Up Conference held at the University of WA earlier this month.
As a state award recipient, the Aqua Jetty Swim School now becomes a nominee in the same category for the National AUSTSWIM Awards, which will be held on October 3-4 on the Sunshine Coast, Queensland.
City of Rockingham Mayor Barry Sammels congratulated all members of the Aqua Jetty Swim School team for playing a vital role in the school's success.
"The Aqua Jetty Swim School, which is aligned with the Royal Life Saving WA 'Swim and Survive' program, caters to swimmers of all ages and teaches water safety awareness and swim technique development," Mayor Sammels said.
"The swim school is led by a group of highly skilled instructors who are passionate about water safety.
"The City congratulates the swim school on their hard earned success and we look forward to supporting them as they bid to become the best in the country during the national awards later this year."
All Aqua Jetty Swim School instructors are AUSTSWIM accredited and have current first aid and CPR qualifications.
The scope of lessons run by the Aqua Jetty Swim School allows swimmers to develop at their own pace.
Each swimming level has a number of assessment outcomes, which when achieved allow a swimmer to progress to the next stage of their development.
AUSTSWIM's awards provide an opportunity to identify and honour teachers, presenters and recognised swim centres from across the country for their respective contributions to aquatic education and water safety.