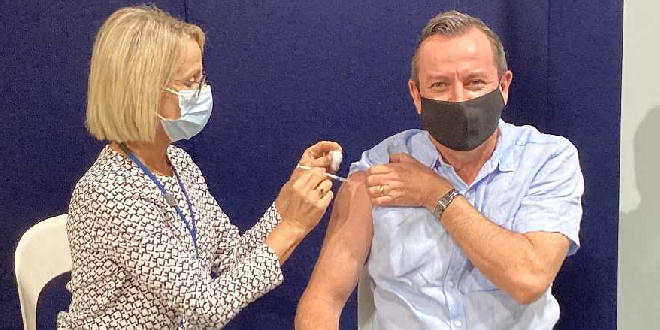 Premier Mark McGowan received his first dose of the AstraZeneca vaccine today. PIC: Jessica Page/7News -Twitter
Australians over the age of 50 are now eligible to receive a COVID-19 vaccination as the next stage of the country's vaccine rollout begins.
Premier Mark McGowan was one of the first Western Australian's to receive his first dose of the AstraZeneca vaccine on Monday.
"Today I've rolled up for WA and got my COVID-19 vaccination," Premier McGowan said.
"As I've said all along, when my turn comes up I won't hesitate to get the vaccine.
"This is ultra-important because the more people who get vaccinated, the more we protect our families, friends and community."
Anyone 50 years and over is eligible to book in and receive the AstraZeneca vaccination from State-run community vaccination clinics or from a participating GP clinic from May 17.
The State-run metropolitan community clinics are located at the Claremont Showgrounds, Kwinana Supa Centre and near Perth Airport at 2 George Wiencke Drive and are open between 8.30am and 3.30pm, seven days a week.
A fourth community vaccination clinic is scheduled to open later this month in Joondalup.
Vaccination bookings are essential and can be made on 13 COVID (13 268 43).
In regional WA, hospital-based vaccination clinics are also offering vaccinations in the Goldfields, Great Southern, Kimberley, Mid-West, Pilbara, South-West and Wheatbelt along with a number of local GP clinics.
Regional hospital-based vaccination clinics can be booked via 13 COVID.
Anyone from regional WA who plans to travel to Perth and is eligible for vaccination due to their work or age can make a vaccination appointment but they will need to return to the metropolitan area within the recommended timeframe for the second dose.