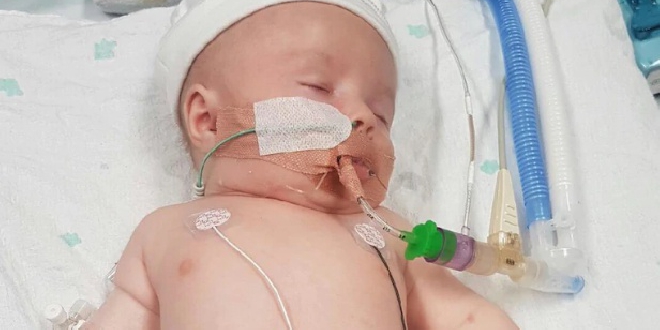 PIC: Seven News
A seven-week-old baby who suffered severe head injuries at a home in Narrogin continues to fight for life and is now breathing on his own.
Baby Nathaniel has spent the last few days at Princess Margaret Hospital after being flown from Narrogin with head injuries.
His great-aunt Cheyenne Taylor told Seven News he wasn't expected to survive.
"He had a brain bleed and the word we just kept hearing over and over was catastrophic, catastrophic brain injury."
Doctors switched off the infant's ventilator on Saturday morning with his distraught mother holding him and preparing to say goodbye.
But Ms Taylor told Seven News he kept breathing on his own.
"He's such a little fighter, such a strong little boy.
"Now we've started to see real improvements.
"He's moved his hands and his feet and when you undress him, he'll cry.
"He does open his eyes and he loves cuddles.
"They're little signs that give us hope."
The extent of his brain damage is still unclear
The West Australian has been told that Nathaniel's parents are separated and the baby boy's father was caring for him in the two days before he was rushed to hospital in Narrogin.
It is understood he called triple-0 last Monday, saying the baby was unresponsive.
Police investigations into how the baby was injured continue.