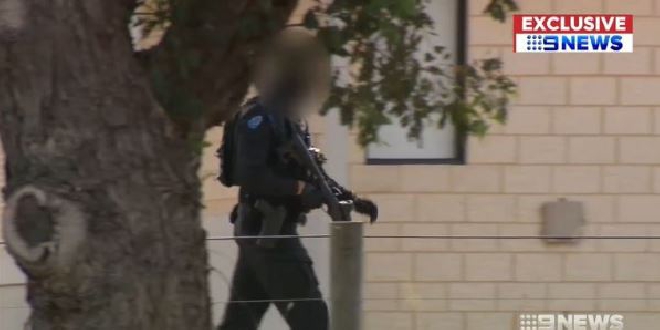 PIC: 9News
A Baldivis man has been charged after allegedly holding his family hostage and threatening to harm them.
Police negotiators and Tactical Response Group officers were called to a property on St Albans Road around 7am on Sunday.
Shortly after police arrived the family members were released without harm.
The man then allegedly locked himself inside a shed and was in possession of an inflammable liquid.
After an hour and 40 minutes of police negotiations the siege ended and the man was taken into custody before being conveyed to hospital for a mental health assessment.
The 46-year-old Baldivis man has been charged with criminal damage or destruction of property, endangering the life, health or safety of a person, threatening to kill, failing to protect a child from harm and three counts of common assault.
He will appear in the Rockingham Magistrates Court today.