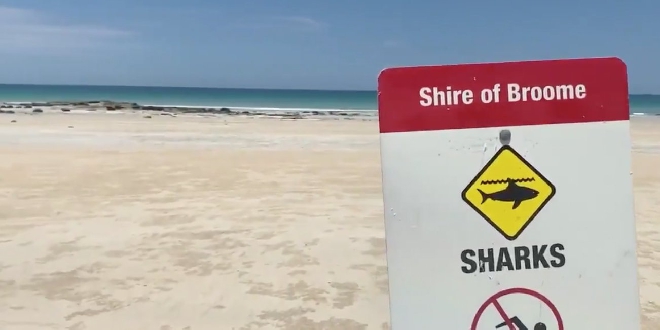 Cable Beach has been closed after a fatal shark attack. PIC: Michael Genovese/Twitter
A man has died after being mauled by a shark at Cable Beach in Broome.
The man was swimming about 1.5km north of Cable Beach Surf Club around 8.30am on Sunday when he was attacked.
It is understood the Broome resident, aged in his 50s, lost his hand and was bitten on the thigh.
The man was recovered from the water and was treated by local police before paramedics arrived.
Sadly he could not be saved.
Cable Beach will remain closed for the rest of the day.
Police have confirmed man killed by shark in #Broome was a local aged in his fifties. Not releasing name yet. Have it from reliable sources that authorities located shark not long after and shot at it, but swam away. Fisheries officers are out in a boat now trying to relocate.

— Erin Parke (@ErinParke2) November 22, 2020
Shark death update: Grim atmosphere as police and shire rangers clear beach, erect warning signs. Believed man who died was aged in sixties, and was swimming/ body-boarding about 2 km north of the rocks. We're used to crocs sightings and jellyfish stings but not this. pic.twitter.com/88NaUIKO9C

— Erin Parke (@ErinParke2) November 22, 2020