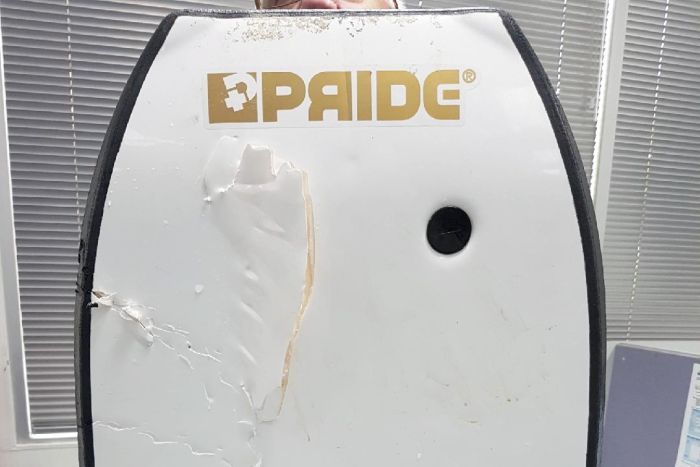 PIC: WA Police
A man who was knocked off his bodyboard by a shark 30 metres out from the shore in Bunbury has escaped unharmed.
Paul Goff was with a group of other bodyboarders at Casuarina Point on Sunday morning when he saw the shark and quickly realised it was not one of the dolphins he had seen swimming past minutes earlier.
The father-of-three said the shark rammed the bodyboard underneath his chest with enough force to propel him into the air.
"It hit fairly hard, but didn't wind me," Mr Goff said
The 48-year-old recounted the terrifying incident just hours after he safely reached shore.
He said he initially did not know what had happened.
"I didn't know how far the shark was behind me, whether it was coming up behind me or had stayed out," Mr Goff said.
He did not look back at all, just concentrated on swimming as fast as he could.
A father of three has told of the terrifying moment he was knocked off his bodyboard by a 4m Great White Shark in Bunbury #7News pic.twitter.com/DwppQzN07j

— 7 News Perth (@7NewsPerth) June 11, 2017
Witnesses believe it was a 3.5m to 4m great white and Fisheries officers have now taken the board to see if the bite marks reveal exactly what attacked him.
Beaches in the area remain closed today.
Signs are up at #Casuarina beach warning all swimmers and surfers about this morning's shark incident pic.twitter.com/MV0Eu0AuqY
— Alexandra Ristway (@aristway27) June 11, 2017