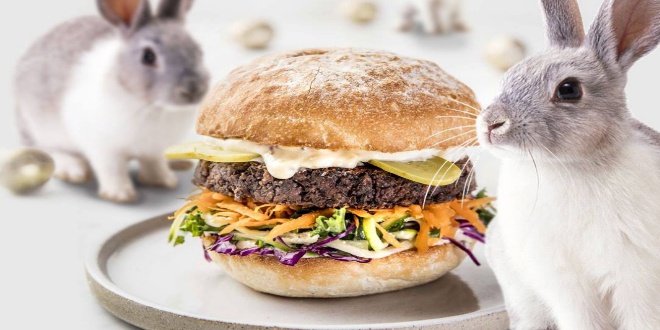 PIC: Facebook / Grill'd
In less than 24 hours thousands of people have taken to social media to express their outrage with the latest Easter promotion from Grill'd.
When we think of Easter we think chocolate eggs, fish on Good Friday and, of course, those cute bunny rabbits (in my case, I look further on for an elegant rabbit, if you get my chocolate drift...).
Burger chain restaurant Grill'd has sent shockwaves not just through the vegan community but to burger enthusiasts everywhere with their seasonal 'Bunny Burger'.
According to the Grill'd website the burg' consist of a rabbit patty blended with pork belly and duck fat and the usual toppings and bun.
Grill'd prides itself on sourcing local ethically sourced produce and has teamed up with Australian owned Alpine Game Meat and Macleay Valley Rabbits for their latest creation.
The Facebook post has been shared 360 times with over 1,800 comments and nearly one and a half thousand 'angry reacts'.
One must ask the question, like so many other have in the comments section, we eat other kinds of meat so how does rabbit meat differ?
Sticking to the traditional chocolate eggs might be the go for some this Easter.