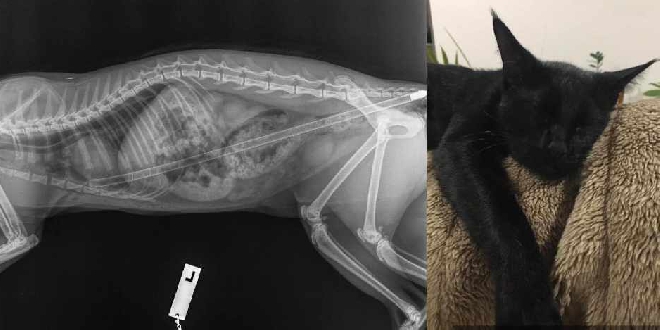 PIC: RSPCA/Baldivis/Rockingham Now/Facebook
The RSPCA is investigating after a pet cat was reportedly hit with a bow and arrow and killed in Port Kennedy.
Daniel Rubick told 7News he found his 1-year-old cat, Shadow, clinging to life at the back door of his house on Monday afternoon.
"I noticed the cat was whining at the door and when I let him in he was bleeding from the chest," he told 7News.
"I'd just thought he'd been hit by a car.
When Daniel arrived at the vet, he was told Shadow was hit by an arrow.
"[It went] just under its arm, so through its chest, right out the back... I don't know how the cat was still alive."
Sadly, Shadow's injuries were too severe to survive.
RSPCA WA took to Facebook to seek information about the attack.
"RSPCA WA is deeply concerned to receive another report of an intentional act of cruelty towards a pet cat," the post read.
"While RSPCA encourages cat owners to keep their pets indoors, there is absolutely no excuse for causing deliberate harm to an animal.
"Animal Cruelty is a serious criminal offence and those found guilty face a maximum penalty of a $50,000 fine or five years in prison."
Anyone who has information about this incident, or who may have seen anything suspicious around Port Kennedy Bay, Port Kennedy Beach or in the bush land around Port Kennedy golf course, is urged to call the RSPCA Cruelty Hotline on 1300 278 358.