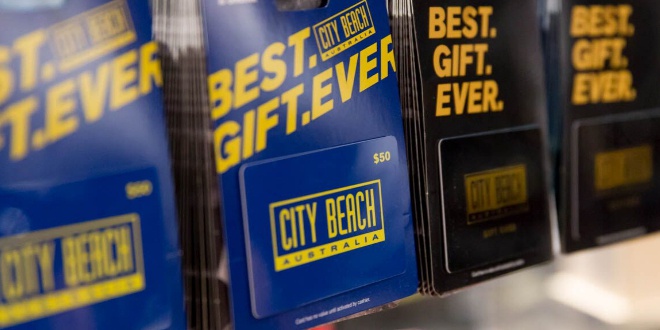 PIC: Supplied
Mandurah shoppers can let out a sigh of relief when they find those gift cards at the back of a desk drawer, City Beach has announced it'll be scrapping gift card expiry dates.
From the end of the month shoppers will be able to enjoy a lifetime of fairer and simpler shopping when City Beach introduces unlimited expiry date gift cards.
This Saturday, March 21, Australian surf and streetwear retailer City Beach will dump gift card expiry dates for good.
City Beach Chief Operating Officer Anita Dorwald said from that date, all customers in possession of a City Beach gift card would be able to redeem it at any of its nationwide store locations and its online store.
"Not only are we extending our gift card terms to include a lifetime validity, we will also honour all gift cards issued in the past, regardless of when they were purchased or the dollar value they hold," she said.
"City Beach first launched in Mandurah in 2017 and since then we've been fortunate to serve thousands of local Mandurah shoppers and employed local residents, many in their first-ever jobs.
"We wanted to ensure our simpler and fairer gift card policy included our Mandurah stores, giving our local customers the flexibility to use our gift cards as and when it suits them."
The New South Wales Government will introduce a mandatory minimum expiry period of three years for gift cards and gift vouchers sold to consumers in NSW from 31 March 2018.
"We decided to take this as an opportunity to scratch expiry dates all together, nationwide. When we first pitched the idea internally it was met with a resounding yes from all stakeholders," Ms Dorwald said.
"Gift card systems have evolved a lot since we first launched ours back in the early 2000's, with financial structures that better manage the burden for retailers addressing contingent liabilities, so we feel it's only right we pass these benefits onto our customers.
"Eliminating expiry dates means gift card holders will enjoy complete flexibility to use them as they please, without having to worry about losing any residual balance."