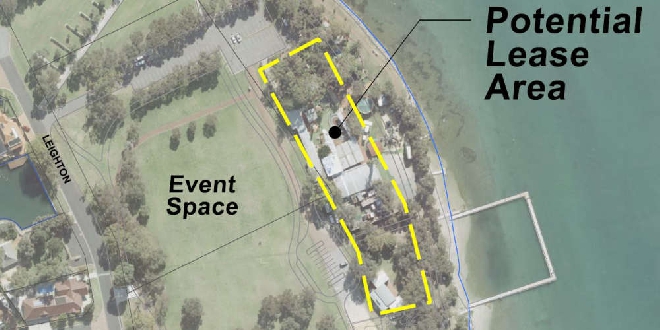 PIC: Supplied
The City of Mandurah will soon be calling on proposals for the future use of the current King Carnival site on the Western Foreshore.
Following a history of short-term lease extensions over the waterfront site, Council has decided to invite proposals for up to a 21-year lease, which they are hoping will give the successful proponent the confidence to invest in the iconic location.
Mayor Rhys Williams said now the City had almost completed its redevelopment of the public spaces along the Western foreshore, the next piece of the City Centre transformation was about encouraging private investment to the site.
"The Western foreshore is a key part of the Mandurah City Centre transformation and there is an opportunity to seek significant investment on this site with a long-term commitment," Mayor Williams said.
"This piece of land is one of the most prominent locations we have in Mandurah in terms of its position on our beautiful Peel-Harvey Estuary, and its connection to the City Centre. Our residents have a long history with this site.
"With the ability to open up a long term lease, the successful proponent will have the confidence to develop this significant piece of land into something exciting and beneficial to the city and community, that will help achieve our vision for Mandurah's future.
"We're encouraging anyone in our community with relevant business interests to talk to us."
The Expression of Interest process will begin in February 2022 via a leasing agent.
In the interim, for more information about the Western Foreshore site please contact Ann Harrop, Senior Planner at the City of Mandurah.