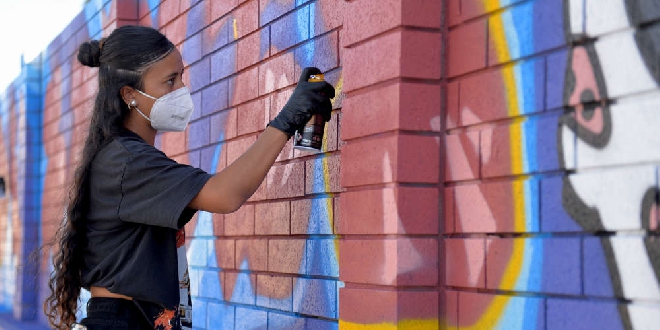 The City of Rockingham has partnered with the Town Team Movement, helping to facilitate a number of grass-roots activities that are focused on making Rockingham a better place to live.
Town Teams is a community-led initiative comprising local residents, businesses and landowners working collaboratively to resolve local issues and improve their communities.
Two Town Teams have been established, one in Rockingham known as The Rocky Beach Town Team and one in Port Kennedy called PK 6172.
Earlier this month the City supported The Rocky Beach Town Team's pop-up painting event at the Beach Rock IGA.
Several murals were painted by local artists to create the start of the Rockingham Street Art Trail.
The City and these groups have worked together with the aim of using this public art trail as a way of tackling graffiti and activating spaces within the foreshore precinct.
Young people who participated in Urban Art Workshops held earlier in the year at SMYL College and Rockingham Youth Centre, were able to participate in the painting process.
The City also supported the PK 6172 Town Team Business Breakfast which was held at Cumbre Sports Facility in Port Kennedy.
This event gave residents and business owners in the area a chance to discuss ways they can improve their local community.
"A key element in the City's Community Safety and Support Services Strategy is to create safe and connected communities," Mayor Deb Hamblin said.
"Facilitating and promoting opportunities for community champions to engage in neighbourhood connection programs like Town Teams helps to achieve this, and we thank everyone who has got involved so far.
"The City supports the Town Teams by encouraging and enabling groups to help get projects and ideas off the ground. We are proud to support grassroots programs like this and we hope to see more of them across our community in the near future."
For more information contact the City's Community Safety and Support Services team via email customer@rockingham.wa.gov.au or call 9528 0333.