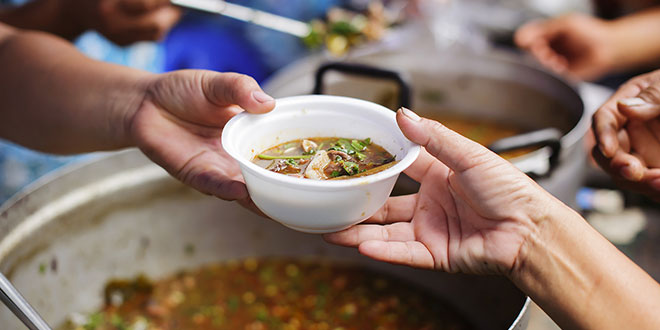 PIC: File
The City of Rockingham has partnered with a number of community services providers to offer a free community event as part of Homelessness Week. 
The event will take place on Tuesday, August 3 beginning at 10am – 12pm at the Salvation Army Rockingham on Willmott Drive in Cooloongup.
Community members will be able to come down for a free lunch, take part in stallholder activities and engage with a wide range of local service providers.
The Salvation Army will be providing a free meal to attendees, Short Back and Sidewalks will offer free haircuts, Thread Together will offer free clothing, while Foodbank and Orange Sky Laundry will also have vans on site.
Representatives from the Australian Red Cross, Southern Community Advocacy and Legal Services (SCALES), St Patrick's Community Support Centre, the CREW, APM and Centrelink will be available to provide support.
Mayor Barry Sammels said Homelessness Week was an opportunity to hear the stories of people experiencing homelessness and to help them connect with key support services.
"The lifting of the moratorium on rental increases and evictions in March 2021 as well as a shortage of suitable housing options, has meant a number of people are at risk of experiencing homelessness," he said.
"Homelessness impacts people from all walks of life and requires a careful, considered, and holistic approach from a range of community stakeholders.
"In line with the City's Community Support Services Strategy, the City's primary responsibility in addressing this issue comes through the support it provides to the not-for-profit sector, education and advocacy."
The City has dedicated significant resources towards addressing the issue of homelessness, most recently signing a contract with St Patrick's Community Support Centre to deliver an assertive outreach service that will provide support to people experiencing homelessness in the community.
The contract is worth $150,000 per annum for three years.
Extensive advocacy efforts have been made by the City to the State Government with respect to the establishment of a common ground facility in the Rockingham/Kwinana/Mandurah area.
In addition, the City also provides tens of thousands of dollars in funding to local service and emergency relief providers through its Community Grants Program.
Further, the City is an integral part of the Rockingham/Kwinana Homelessness Interagency Group, which includes representatives from a variety of government and not-for-profit support groups.
This network plays a key role in coordinating the delivery of important services to those in need.
For more information on the support services available across the community visit the City's website.