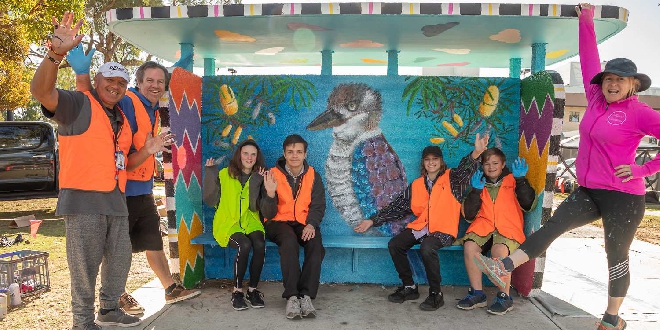 Rocky Davis and Dean Fisher (Rockingham SHS staff), Jade Green (14), Henry Erasmus (15), Johnathon Peake (13), Matthew Curran (14), and Samantha Prentice (Artist) PIC: City of Rockingham
The City of Rockingham, South Metropolitan Health Service and Rockingham Senior High School have joined forces to tackle graffiti in the community. 
Community Safety Officers from the City worked in partnership with South Metropolitan Health Service and Rockingham SHS students alongside an artist to design a locally inspired mural, which was painted on a City owned concrete bus shelter outside Rockingham General Hospital.
Students worked with the local artist, Samatha Prentice, to paint the mural before a preventative graffiti coating was applied.
The bus shelter is highlighted by a kangaroo with its indigenous name and kookaburra on each side.
City of Rockingham Mayor Barry Sammels said the mural would enhance the amenity of the area around the bus shelter for the community.
"The mural project on Eleanora Drive in Cooloongup is a fantastic example of stakeholders across the community coming together for a great cause," Mayor Sammels said.
"Graffiti, particularly on bus shelters, is a common issue in the City and this project will play an important role in making it more inviting for users of public transport. The designs featured are visually stunning and the anti-graffiti coating will protect the bus shelter from anti-social behaviour into the future."