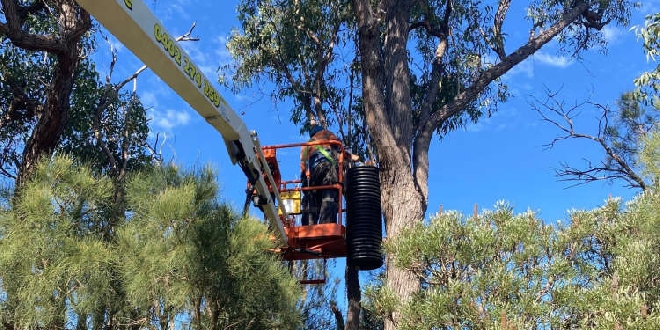 PIC: City of Rockingham.
The City of Rockingham has taken proactive measures at several conservation reserves across the community to protect threatened black cockatoos by installing 10 artificial nesting hollows. 
Known as 'cockatubes,' these hollows provide potential nesting habitat for threatened carnaby's black cockatoos and forest red-tailed black cockatoos.
The artificial hollows sit between six to 10 metres up a tree and are designed to last for at least 50 years.
The cockatubes were installed by the City at Tamworth Hill Swamp, Baldivis Nature Reserve, Karnup Townsite, Lake Richmond and at Karnup School Site.
City of Rockingham Mayor Deb Hamblin said the installation of the cockatubes would play a vital role in protecting the future of black cockatoos, which had become a threatened species in the South West due to land clearing and fragmentation of habitat.
"Planning for future generations through the preservation and management of bushland and coastal reserves is a key aspiration in the City's Strategic Community Plan," Mayor Hamblin said.
"The City recognises the plight facing black cockatoos and has installed these artificial nesting hollows to encourage further breeding opportunities for the threatened species.
"Over the coming years the City will closely monitor these nesting hollows for further signs of black cockatoo nesting."
The installation of these artificial nesting hollows follows on from the City installing nine cockatubes in the north-western corner of the Baldivis Sporting Complex site in late 2021.