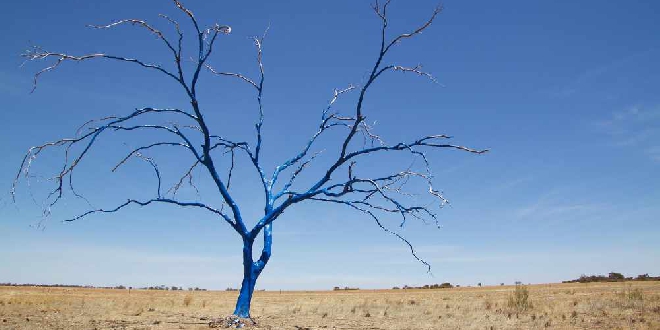 PIC: Blue Tree Project/Facebook
The City of Rockingham has decided on three potential locations where a tree could be painted blue to raise awareness of mental health. 
The Blue Tree Project aims to spark difficult conversations around mental health and encourages people to speak up about mental health.
By painting trees blue, the Blue Tree Project aims to spread the message that "it's OK not to be OK," and that through a collective effort, the stigma around mental health can be broken down.
Option one for a tree to be painted blue is located on Goddard Street in Rockingham on the northern verge, approximately 165m west of Chalgrove Avenue.
Option two is located on Safety Bay Road in Baldivis, on the northern verge approximately 500m east of Old Mandurah Road.
Option three is located on the corner of Baldivis Road and the Safety Bay Road roundabout (on the north side) in front of Baldivis Vet Hospital.
City of Rockingham Mayor Barry Sammels encouraged people to select their preferred location on the City's website.
"Mental health and the Blue Tree Project are important issues, so the City is asking community members to have their say on the location they feel is most suitable for a blue tree," Mayor Sammels said.
"These options have been selected following consultation with the stakeholders who have driven this initiative from the very beginning.
"The City hopes to see as many residents as possible participate in the process to select a suitable location for raising awareness of mental health issues in the community.
"Once an option has been selected, the community will be invited to come and paint the tree together."
For people wishing to visit the proposed locations before making their choice, each tree can be found at the following GPS coordinates:
Option one: -32.281952, 115.746582
Option two: -32.327050, 115.796554
Option three: - 32.330056, 115.821961
To select your preferred option visit http://rockingham.wa.gov.au/your-city/share-your-thoughts/open-for-comment/blue-tree-project.
If you or someone you know requires help or support, please contact Lifeline on 13 11 14.