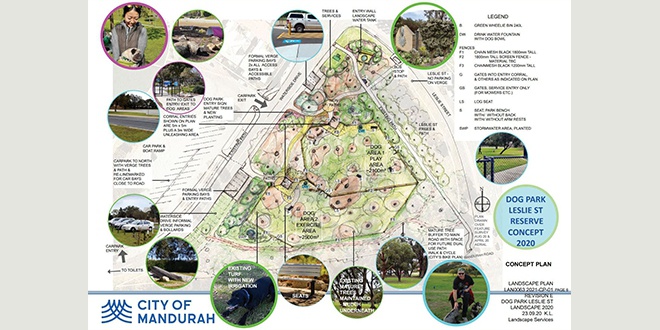 PIC: City of Mandurah
The City of Mandurah is inviting the community to have their say on the proposed design of an enclosed dog park to be located at Leslie Street Reserve in Dudley Park.
With more than 16,000 dogs alone registered with the City, an enclosed dog park will contribute to happier, healthier dogs with the hopes it will also create a community space for dog owners to socialise.
The community will have until Sunday, November 22 to provide feedback on the concept design, which includes dog exercise and play areas, safe and secure entry points, landscape and seating.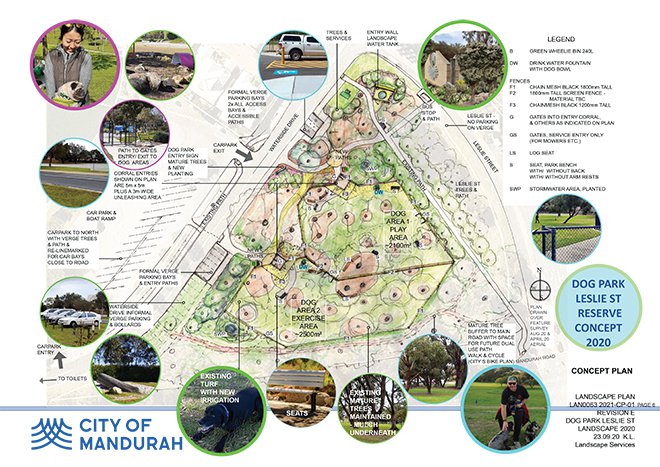 The design has been developed with a working group after the location was chosen. The group includes dog handlers and trainers, interested community members, elected members and City staff.
Mayor Rhys Williams said what we need now is to make sure we get the design right, and that's where the community input is so important.
"This has to be a park that is not only enjoyed by our many dog-loving residents but most importantly by our resident dogs as well," he said.
"We've had such positive feedback to date I thank all those residents who have so far been involved in the creation of this park."
To have your say on the concept designs, go to www.mandurahmatters.com.au/dogpark.