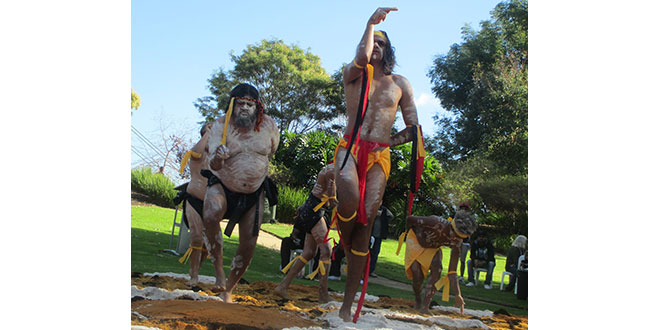 Traditional dance will enhance the cultural enlightenment and healing during Back to Pinjarra Day. PIC: Supplied
Peel region community members will unite on the banks of the Murray River on Saturday to commemorate the 1834 Pinjarra Massacre and pay respects to the ancestors who have fallen. 
The Shire of Murray and Bindjareb Nyungar community will host the Back to Pinjarra Day event at the Pinjarra Massacre Site from 10am to 1pm.
In recognition of one of the most notorious incidents in Aboriginal history, the event aims to create cultural awareness among community members and assist with the spiritual healing of the Bindjareb nation and the first Australians.
Back to Pinjarra Day will commence with a Welcome to Country followed by a minute silence and a smoking ceremony.
Cultural enlightenment and healing will be enhanced through traditional dance and an open mic session including slam poetry, dreamtime stories, live music and didgeridoo performances. Aboriginal cuisine and billy tea will also be served.
Children's tribal face painting and cultural wristbands will be available at cost.
According to serving Shire President Maree Reid, Back to Pinjarra Day is a significant step forward for the district.
"Understanding that Aboriginal people carry their grief through generations, it is important that we, as a community acknowledge our shared history and allow opportunity for the Bindjareb people to heal."
Back to Pinjarra Day is proudly supported by the WA Primary Health Alliance (WAPHA) through the Shire of Murray's 'Completing the Circle' project.
The project aims to improve mental health in the Murray community and is based on the Aboriginal Medicine Wheel (Eastern Medicine), which promotes healing within four quadrants namely mental, physical, emotional and spiritual.