Construction is underway at the historic Exchange Hotel in Pinjarra.
New life is being breathed into the 152-year-old building which is set to be revamped into a contemporary and relaxed destination hospitality venue.
To honour the building's heritage, there has been repairs to the original residence and heritage bricklayers will reinstate brickwork to the site's ungraded foundations.
New steel work has also been installed, forming the extensions to the kitchen, bathrooms, and the future verandah.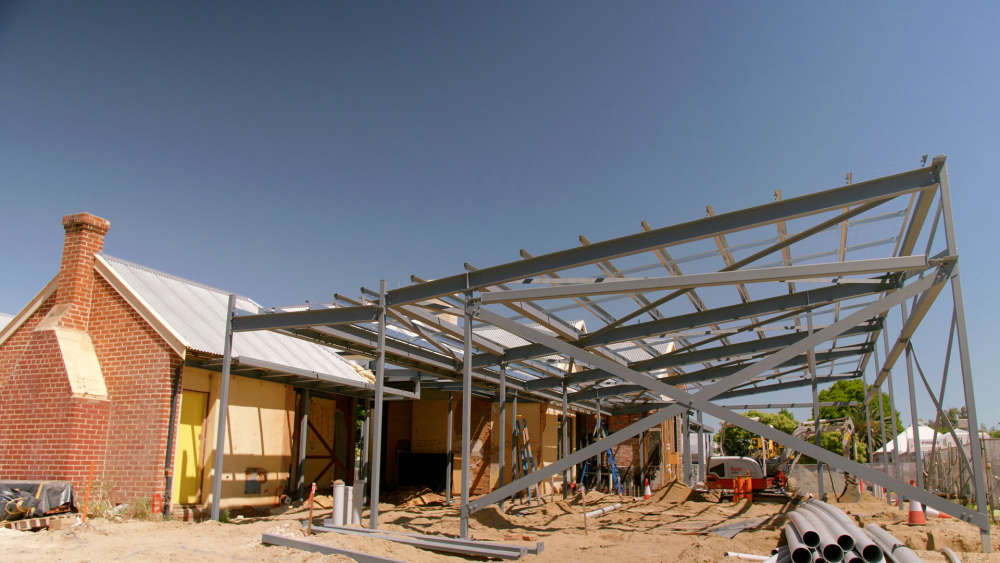 Shire of Murray President Councillor David Bolt said he was thrilled to be seeing the progress after a recent site visit.
"At the Shire of Murray, our recently adopted Council Plan sets five priority aspirations – one of these being 'Place'," Councillor Bolt said.
"This means we are working to ensure our rural charm is preserved while we grow by embracing innovative urban design ideas. The redevelopment of the Exchange Hotel supports this aspiration as once complete, the venue will be enjoyed by local people and visitors."
In October 2020, Council supported progressing detailed planning, feasibility and designs for the Shire of Murray to undertake the redevelopment of the former Exchange Hotel.
$2.3 million was secured from the Australian Government's Building Better Regions Fund in 2021 and in the following year, new operators were found.
Karl and Janine Bullers have extensive experience in hospitality, including running and owning the National Hotel and the Old Court House in Fremantle.
Their experience in taking heritage buildings and developing them into food and drink destinations was a key factor in them becoming operators
of the Exchange Hotel.
"We are very excited to be seeing the progress, and are grateful to be working with the Shire of Murray and Devlyn Construction to help bring our vision to life," Operator Karl Bullers said.
"The Exchange Hotel will be a contemporary and relaxed hospitality venue designed to service more than 600 people and showcase the best of the region's fresh produce, while maintaining the heritage and charm of this beloved venue."
Modelling suggests $58 million of new economic output could be possible over five years, creating 67 full-time jobs and encourage more than 38,000 new visitors to the Murray Region each year.