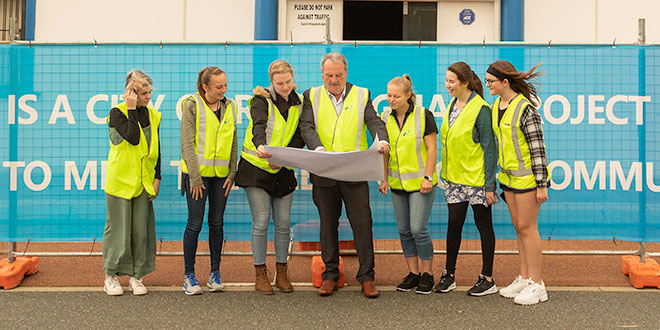 Mayor Barry Sammels and members of the Rockingham Youth Reference Group check out the plans for the Rockingham Youth Centre. Picture: City of Rockingham.
The City of Rockingham has announced that construction on the new Rockingham Youth Centre will begin immediately.
The fit out and refurbishment of the new Rockingham Youth Centre will be carried out by LKS Constructions. Located on MacKinnon Street in Rockingham, the centre will give young people aged 12 – 24 a place to connect and learn new skills.
City Youth Services and Youth Development staff will be based at the centre and the facility will host forums, skill development sessions and workshops for young people. It will also provide young people with opportunities in areas that include entrepreneurship, social innovation, life skills, job readiness and leadership skills.
In addition, emotional and health related support services, along with a range of health and wellbeing programs, and arts and cultural programs will be delivered. The centre will also provide a safe space for young people to relax, study, and meet new friends.
Mayor Barry Sammels said the Rockingham Youth Centre would play a significant part in helping the City meet the aspirations outlined in its Strategic Community Plan.
"The Rockingham Youth Centre will be a multipurpose facility that gives young people across our community the opportunity to develop important life skills," Mayor Sammels said.
"Planning for future generations as well as growing and nurturing community connectedness and wellbeing, are two important aspirations for our City. In the long term, this facility will provide a variety of support networks, which will ultimately boost youth development and involvement in our City.
"The City has been keen to ensure local young people have a say in how the new centre is designed, and I would like to acknowledge the Rockingham Youth Reference Group for playing an important role in the consultation process."
Approximately $2.35 million has been budgeted for the Rockingham Youth Centre project, which is inclusive of all planning, design, construction and fit out costs. The City also gratefully acknowledges the $985,000 contribution that has been made to the project by Lotterywest.
Construction on the Rockingham Youth Centre is expected to be completed by the end of 2020.
The City is also currently recruiting for new members to join the Rockingham Youth Reference Group. If you are interested in developing your leadership potential, want to be a part on an innovative team, represent your community and contribute to the development of the Rockingham Youth Centre, this could be the opportunity for you.
For further information, contact the City on 9528 0333 or email customer@rockingham.wa.gov.au. Applications close 4.30pm on Friday 10 July.