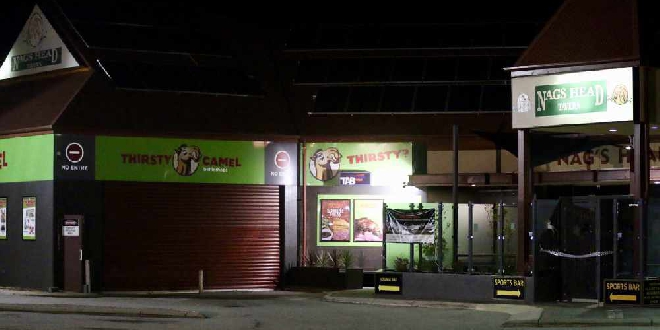 PIC: Tex Reeks
Staff members at a tavern in Cooloongup managed to tackle two alleged armed robbers overnight, detaining them until police arrived.
Police will allege two men entered the Nags Head Tavern on Ennis Avenue around 10pm on Monday, armed with a handgun and hammer.
The men allegedly threatened staff, demanding to be taken to the back office and given cash.
During this time a staff member called the police, while other employees tackled the men, disarming and detaining them until police arrived.
When officers arrived, a further third man allegedly sped off in a white Mercedes.
Police chased the man through several suburbs before the driver lost control at a roundabout on Secret Harbour Boulevard in Secret Harbour, crashing into a fence and tree.
The man allegedly ran from the vehicle but was arrested a short distance away.
A 41-year-old man from Huntingdale has been charged with 37 offences which relate to a number of burglary and robbery incidents across Perth between August and October.
A 30-year-old man from Kenwick has been charged with 28 offences and a 37-year-old man from Orelia has been charged with 30 offences.
They will appear in the Perth Magistrates Court today.