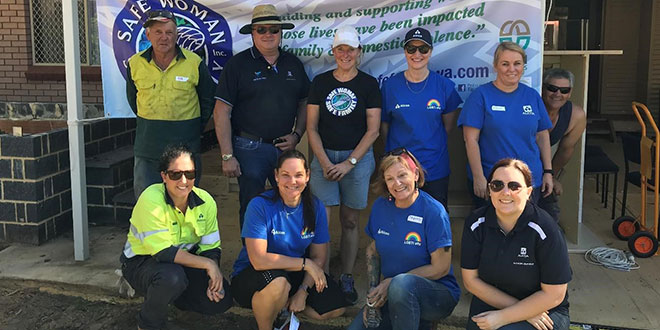 PIC: Alcoa employees volunteering at Safe Woman Safe Family as part of an ACTION grant in 2019. Pictured with Safe Woman Safe Family Director Tanya Langford.
Alcoa is distributing a total of $156,000 between 52 organisations under its Alcoans Coming Together in our Neighbourhoods (ACTION) grant program in Australia.
The bulk of that funding, $138,000, will go to 46 groups in the Peel, Kwinana and Upper South West regions of Western Australia where Alcoa has two bauxite mines, three alumina refineries and two port operations.
Alcoa's ACTION program usually involves grants of $3,000 being paid to nominated community groups and charities in recognition of the volunteering efforts of groups of employees.

While group employee volunteering cannot proceed at the moment due to the social distancing requirements relating to the coronavirus, Alcoa has decided to still issue the grants.

Pinjarra Refinery Manager Mark Hodgson said the grants were being made in recognition of employees' planned volunteering efforts as well as the contribution the many organisations in question made to local communities close to where the company operates.

"While it is disappointing that employees cannot get out and volunteer with the organisations that are important to them in their local communities, we are pleased to still be able to assist them financially," Mark said.

"Employee volunteering and supporting grassroots organisations is part of our culture at Alcoa, and we recognise that now, more than ever, it is important to help out where we can."

Congratulations to the Mandurah Pirates Rugby Club, Peekaboo Rescue, Port Bouvard Surf Lifesaving Club, Peel United Soccer Club, Falcon Volunteer Fire and Rescue, Murray District Rangers Soccer Club, South Mandurah Football Club, Mandurah Environment and Heritage Group, Singleton Primary School P&C and Secret Harbour Volunteer Fire and Rescue who will all receive a $3,000 grant from Alcoa's Pinjarra Alumina Refinery as part of the 2020 ACTION program.