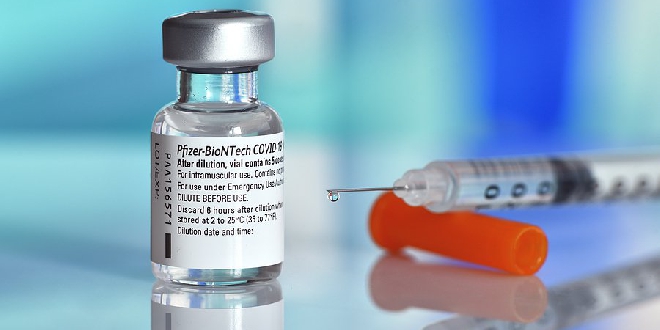 Pfizer vaccine. PIC: File
Premier Mark McGowan has announced extended mandatory vaccination for around 75 per cent of the state's workforce. 
Under the approach, two groups of workforces will be subject to mandatory vaccination by certain dates, with a third group required to be vaccinated in the event of a lockdown.
Workers in group one will need to have received their first dose by December 1, 2021 and be fully vaccinated by December 31, 2021.
These include cross-border freight workers (high and extreme risk locations only), remaining public and private hospitals and public healthcare facilities, primary and community health, onsite resources sector workers, border and air transport, staff working in or entering remote Aboriginal communities, residential and non-residential community care services, corrective services staff, police, fire and emergency services (excluding volunteers) and abattoirs and meat processing workers.
Workers in group two must receive their first dose by December 31, 2021 and be fully vaccinated by January 31, 2022.
These include supermarkets, grocery, bakery workers, restaurant, pub, bar or café workers, post office, hardware store, child care or family day care, schools or boarding schools, financial institutions, critical infrastructure and services necessary for health, safety and welfare of the community, vets, petrol stations, truck stops and roadhouses, public and commercial transport, hotel, motel or other accommodation facilities, funeral or mortuary services, and building, maintenance or construction workers.
The third group must be fully vaccinated to attend work during a lockdown or similar restrictions.
This will include bottle shop staff, pet stores, roadside assistance, critical forestry, critical primary industries, critical factories, manufacturing, fabrication and production, government or local government services, vehicle and mechanical repair service, and members and staff at the Parliament of Western Australia.
"Mandating COVID-19 vaccinations for more than half of WA's workforce sets out a safe and clear framework for industries and workers, based on our expert health advice," Premier Mark McGowan said.
"This phased approach is safe and proportionate to the risk of COVID-19 in our community.
"WA needs to be prepared for community transmission - by mandating our essential and critical workforces we can maintain services, and businesses can continue to operate safely in the long term.
"It's vital people can continue working should community transmission or a lockdown occur, so that delivery of critical services is not disrupted."
Mr McGowan said fines will be issued to businesses and individuals who fail to cooperate.
"Employers who have unvaccinated staff working after the deadline run the risk of being fined up to $100,000," Mr McGowan said.
"Individual employees could also receive a fine of up to $20,000."