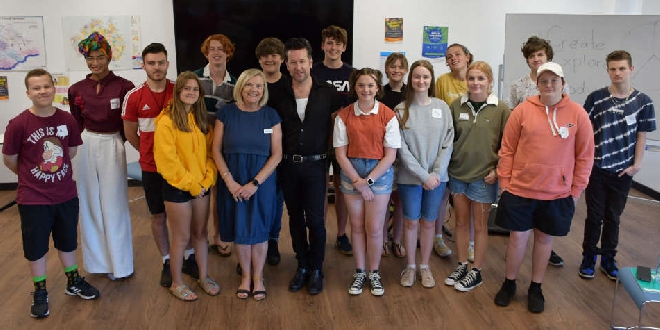 Mayor Deb Hamblin and Kav Temperley (centre) with the participants of the songwriting workshop at the RYC. PIC: City of Rockingham.
Eskimo Joe's Kav Temperley was in Rockingham last week helping young budding musicians at a free songwriting workshop.
The workshop was held at the Rockingham Youth Centre (RYC) on MacKinnon Street and is a safe and inclusive space for young people that provides them with opportunities to engage in a number of social, educational and recreational activities.
The booked out songwriting workshop provided 16 budding musicians with the chance to learn directly from Temperley.
Participants were divided into groups and focused on the themes of 'create, explore, produce,' with Temperley providing guidance to them throughout the day.
The workshop culminated with young musicians performing their songs live with the ARIA award winning songwriter giving expert feedback.
City of Rockingham Mayor Deb Hamblin said the songwriting workshop was one of many exciting activities the RYC provides for young people in the community.
"In line with the vision of the City's Strategy for Children and Young People 2018 - 2023, the RYC is empowering young people across our City," Mayor Hamblin said.
"The City thanks Kav Temperley for providing his wealth of experience in music through the workshop. The young musicians had an exciting opportunity to learn directly from one of WA's leading artists and given the popularity of this event, the City is looking at hosting more of them in future.
"Since the RYC opened in early 2021 it has given members the opportunity to engage and build a stronger connection to their community.
"It has done this through events like this songwriting workshop as well as programs including fitness and yoga classes, hangout sessions, resume clinics, cultural programs, a weekly HER Space drop-in program for young women and a monthly pridespace drop in program for young people who identify as part of the LGBTQIA+ community."
Kav Temperley congratulated the young people involved in the songwriting workshop at the RYC for their efforts.
"I love being in the room when the light bulb goes on for the first time and the kids realise that through a lot of hard work and collaboration, songwriting can become a career," Temperley said.
"Well done to all the participants of the City of Rockingham songwriting workshop, all of your songs were amazing."
Workshop participant Kav Fullerton, 14, who shares the same name as the lead singer from Eskimo Joe, relished the opportunity provided through the workshop at the RYC.
"I started around eight just playing guitar and doing some singing lessons but since last year I've started taking my music more seriously. I went into the Breakthrough Music Competition and I've done little gigs around town," Fullerton said.
"I've written songs before but this was the first time I've written a song in a group. I definitely enjoyed hanging out with Kav and also (learning) how to write a song properly, and how to go with the songwriting process of "create, explore, produce."
For more information on the RYC visit rockingham.wa.gov.au/youth