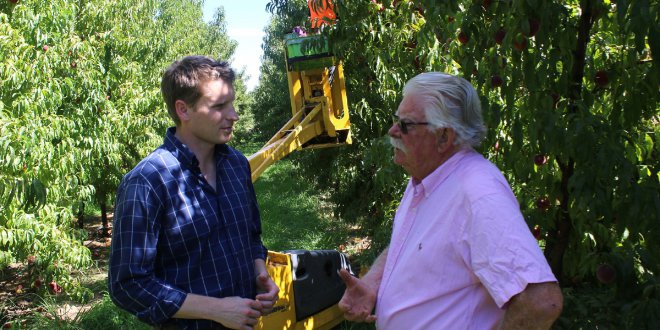 PIC: Supplied
A new funding grant from the Turnbull Government will give farmers access to new chemicals for their crops.
The Coalition Government has awarded $1.78 million in funding to WA farmers to help combat growing issues with pests and weeds.
Chemicals have been approved in Western Australia to protect a range of crops including strawberries, quinoa, bulb, fruiting and leafy vegetables and others.
Federal Member for Canning Andrew Hastie said that local farmers needed the right resources to fight weeds and bugs that have the potential to inflict havoc on their crops.
"The Perth Hills and the Peel region are home to a wide variety of innovative and resilient producers," he said.
"But they need access to safe and reliable chemicals.
"The Coalition Government's Improved Access to Agricultural and Veterinary Chemicals Initiative is aimed at providing better access to chemicals that farmers need."
Mr Hastie said while agriculture chemicals can be costly the funding from the federal government would help aim local farmers to access the crop treatments.
"Australia's AgVet chemical market is relatively small, which can occasionally mean that the cost involved in bringing chemicals to market is quite high. This can leave Australian producers at a disadvantage against international competition," he said.
Minister for Agriculture and Water Resources, David Littleproud, said the third round of the Agvet Chemicals Grants Program would deliver better farm gate returns through 26 grants to address a range of priority uses.
"This is all about giving farmers the right tools to stay ahead of the game and do what they do best, farm," he said.
"The funding is part of an $8 million commitment over four years to help farmers gain access to safe and effective chemicals."
The $8 million commitment started in 2014 and will run until completion in 2018.