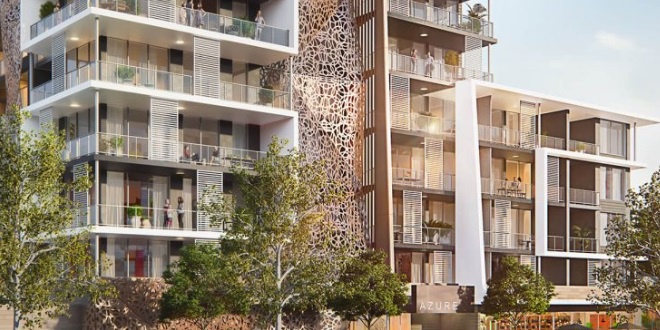 PIC: blackburne.com.au
Construction has started on an eight-storey complex in Rockingham which is the final stage of LandCorp's urban regeneration plan for the Waterfront Village.
Housing Minister Peter Tinley officially launched property developer Blackburne's $30 million mixed use development in the heart of LandCorp's Rockingham Waterfront Village urban regeneration project.

Blackburne's Azure Rockingham development represents the last stage of a 17-year transformation of 16.8 hectares of underutilised Crown land between Wanliss Street, Rockingham Beach Road and Railway Terrace.

Rockingham Waterfront Village, a partnership between LandCorp and the City of Rockingham, is an urban renewal project that has created a high-class tourist, cultural and commercial precinct that includes high rise apartments and an attractive café strip.

Blackburne's Azure Rockingham development will enhance the overall development of the Waterfront Village with an eight-storey complex comprised of two ground floor commercial tenancies, 51 apartments, a swimming pool, lounge and barbecue area.

Housing Minister Peter Tinley said Azure Rockingham is set to be a jewel in one of Western Australia's most successful urban redevelopment crowns.
"The eight-storey mixed use development will bring more housing choice to the area, more amenity and increased job opportunities.

"The Rockingham Waterfront Village is an excellent example of the State Government, local government and the private sector combining to create complete, well-functioning neighbourhoods out of surplus land."